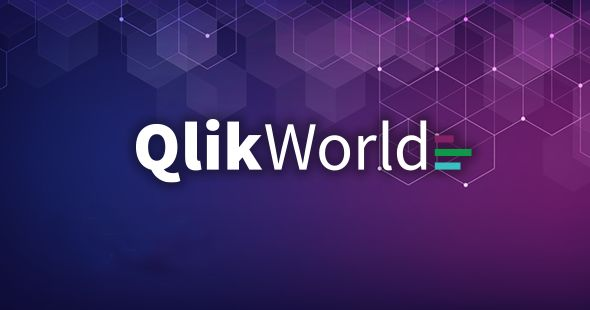 Active Intelligence is the way to action
– The "need to knows" from QlikWorld 2020 –
Let's turn a 3000 visitor offline conference in Phoenix with 500+ sessions into an online 30 000 people forum?  It goes without saying that's quite a challenge, but Qlik actually succeeded in making 110 sessions available, for well, the whole world. Today, the entire shebang aka QlikWorld kicked off and Qlik announced their strategy going forward, sharing their holistic approach including Qlik Data Integration, Qlik Data Analytics and data literacy. Get the highlights from the initial 120-minute session below.
As Mike Capone, CEO of Qlik, stated in his opening keynote, Phoenix was obviously not meant to happen this year as COVID-19 reveals gaps splitting the world apart. And, that's also how Qlik addressed their approach going forward – to work smarter with data, by bridging gaps from raw data to end-user, with focus on driving true business value.
James Fisher, Chief Product Officer, and Rick Jackson, VP Product Marketing, gave us a brief glimpse of the future, referring to how their active intelligence end to end platform will accelerate business value by enabling business users to free, find, understand and act on data – faster. Qlik's holistic approach aims to close the data gaps and turn raw data into business value faster, by taking control of the entire chain combining data integration, data analytics and data literacy.
Basically, the strategy is about is leading the shift from passive BI to active BI, which is action-oriented and based on a combination of real-time data and data in rest. Active Intelligence is the 2020 Qlik buzzword,  defined as continuous intelligence derived from real-time data specifically designed to trigger immediate actions. The aim is to drive end to end value by leveraging an active intelligence platform, that seamlessly combines data integration with increased automation and AI capabilities, to transform data to active analytics. Ultimately, by freeing data from silos, business users can start to understand it and find true insights, so the entire organisation can benefit and act on it.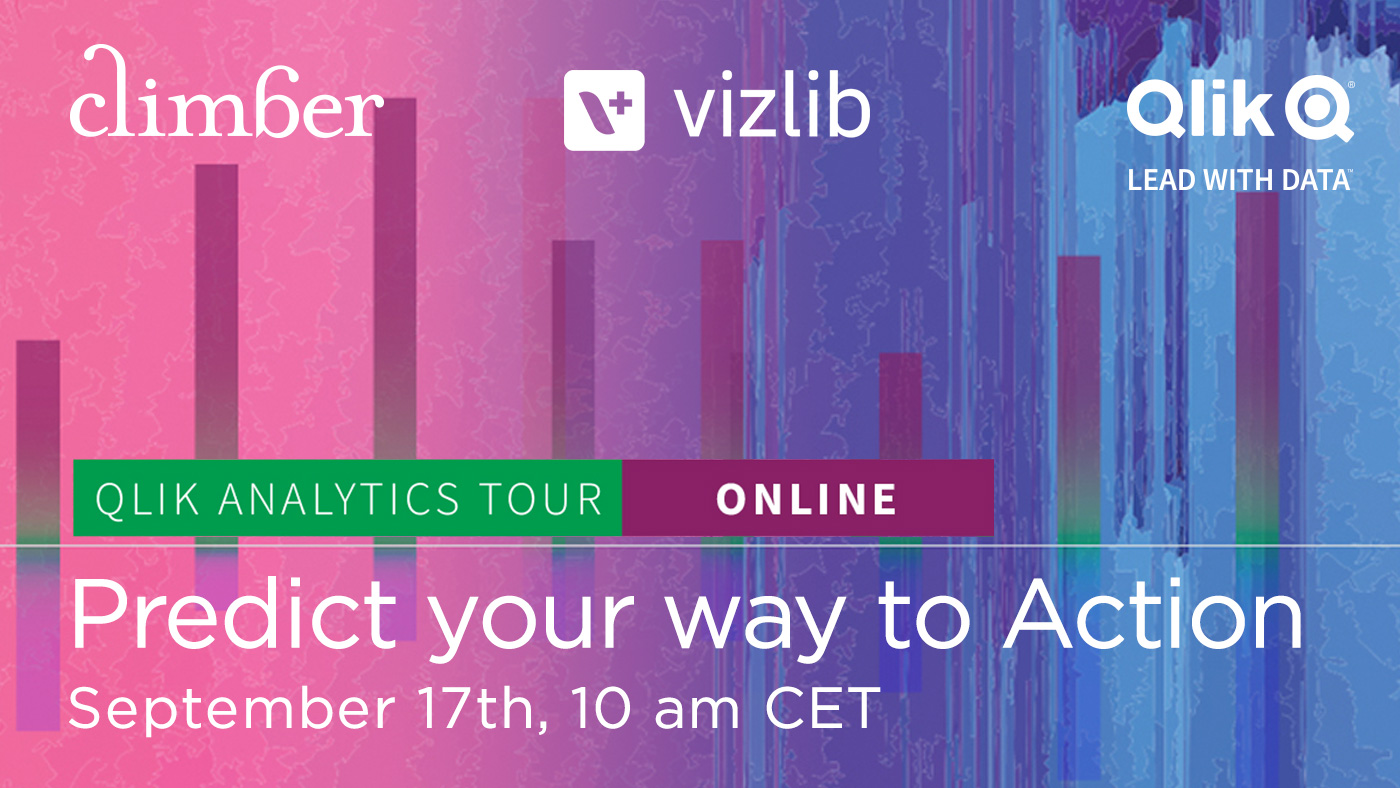 SIGN UP FOR QLIK ANALYTICS TOUR ONLINE – SEPTEMBER 17th
PREDICT YOUR WAY TO ACTION!
Data, decisions and actions. One thing should lead to the other, but that doesn't just happen automatically overnight. Being action-oriented has been crucial to succeed, or rather survive for all businesses this spring. Closing the data gaps in your organisation, and increasing collaboration will shorten the time from data to action.
Join us for a masterclass on how to accelerate actions through Augmented Data Analytics at the Qlik Analytics Tour 2020 on September 17th, 10 am CET! The event is free, and spots are limited.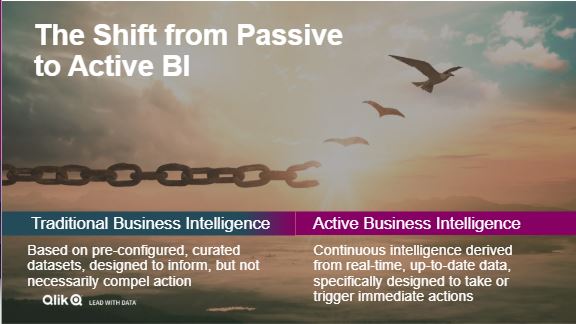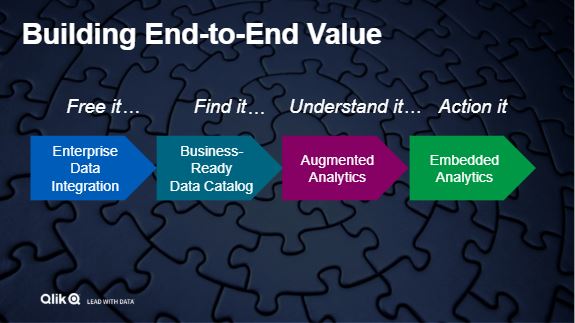 1. WHAT'S NEW IN DATA ANALYTICS?
James Fisher, Chief Product Officer, and Josh Good, VP Product Marketing, revealed some news in the Analytics area. Here are the top three announcements:
The general ambition is a cloud-based offering and Qlik is moving towards Sense as SaaS-first although other options are still available. But new innovations such as one hub for all content and individual charts happen in the Cloud-first which makes having at least a hybrid environment very interesting.
Qlik Alerting is another interesting product that is a vital part of Qlik's vision of actionable intelligence focus. This initiative puts the focus not only on insights but on actions, "what are you going to do about this?"
Dynamic Views are a development of the much under-utilized ODAG functionality that will enable more real-time analytics where appropriate. Together with the Qlik Data Integration developments for creating and maintaining real-time QVDs, this is exciting stuff.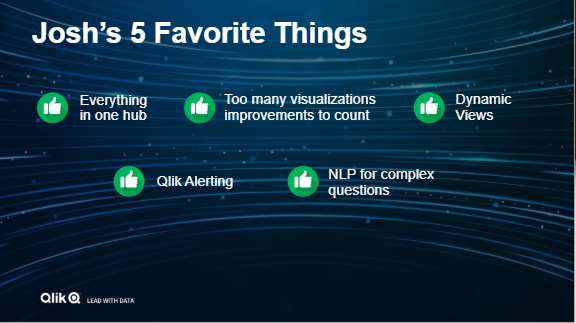 2. WHAT'S NEW IN QLIK DATA INTEGRATION?
Last year Qlik broadened their offering around Data analytics and incorporated the gathering of data into their product portfolio. This is what they call Qlik Data Integration (QDI) or DataOps and it's basically all about improving Communication, Integration of sources into the desired targets and Automating that process. In this space, Qlik mentioned 3 unique capabilities:
CDC – Change Data Capture which is a real game-changer. With Qlik Replicate you can move your data in near real-time (seconds) at Scale. All of this agent-less – without any installations on the source systems/target
Movement of data into the cloud – where they are the market leader. Any data, on-prem or in the cloud replicated into the desired target cloud without being limited to one of the big Cloud services
Bridging the gap between IT and business by getting the data from Raw to Actionable. "Find it – Free it"
In the demos, Qlik showed how they can connect to the corporate SAP data, replicate and create a Data Warehouse with published Data Marts, without writing a single line of code. All of this in Snowflake with a real-time update from source to data mart. In Qlik Catalog or directly in Qlik Sense the business user can access all the data, with full insight into Data Lineage, Size, Popularity and Quality. And all the data including what's in QVD files can be used by any BI Tool, QDI is BI Tool Agnostic.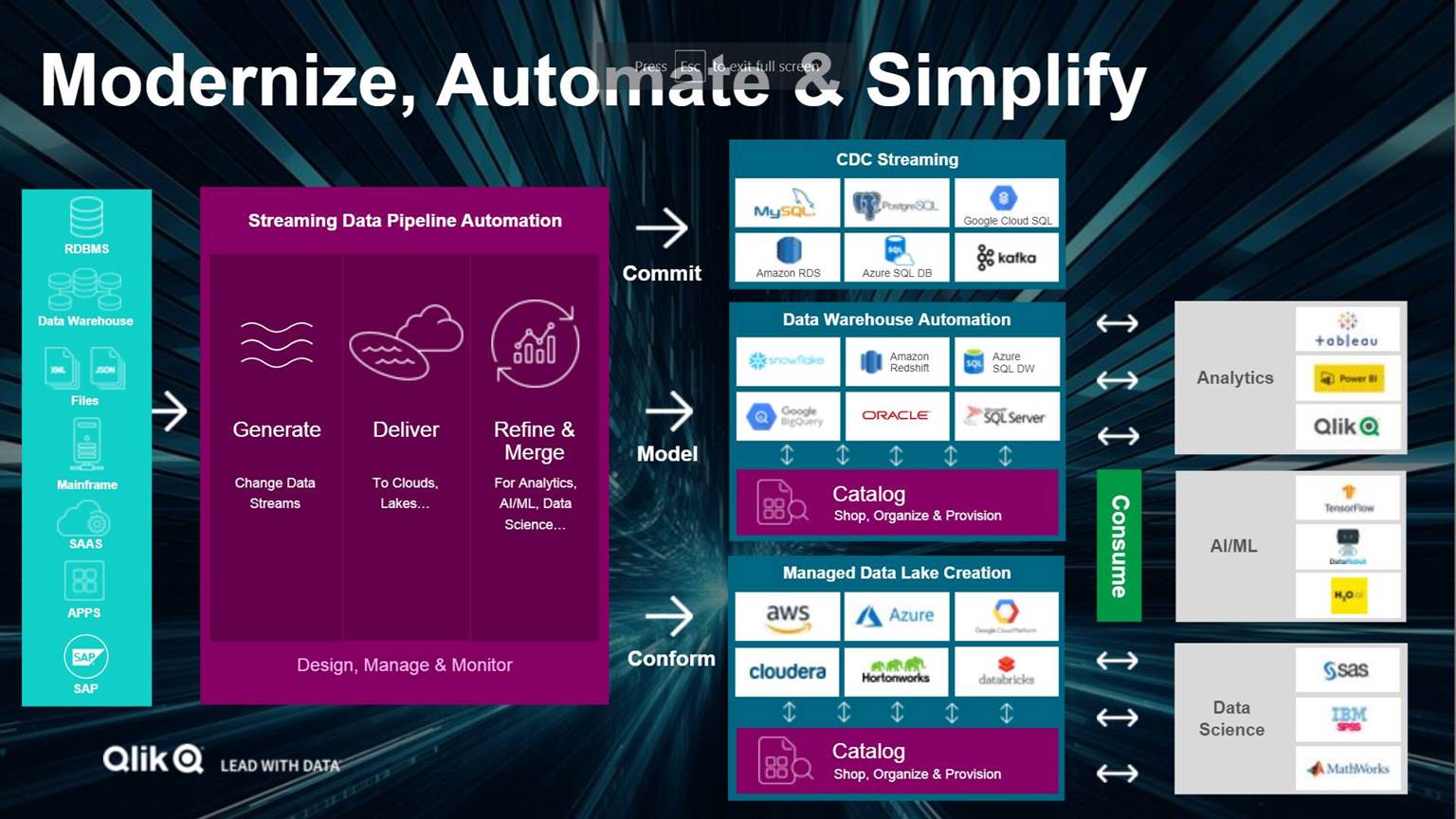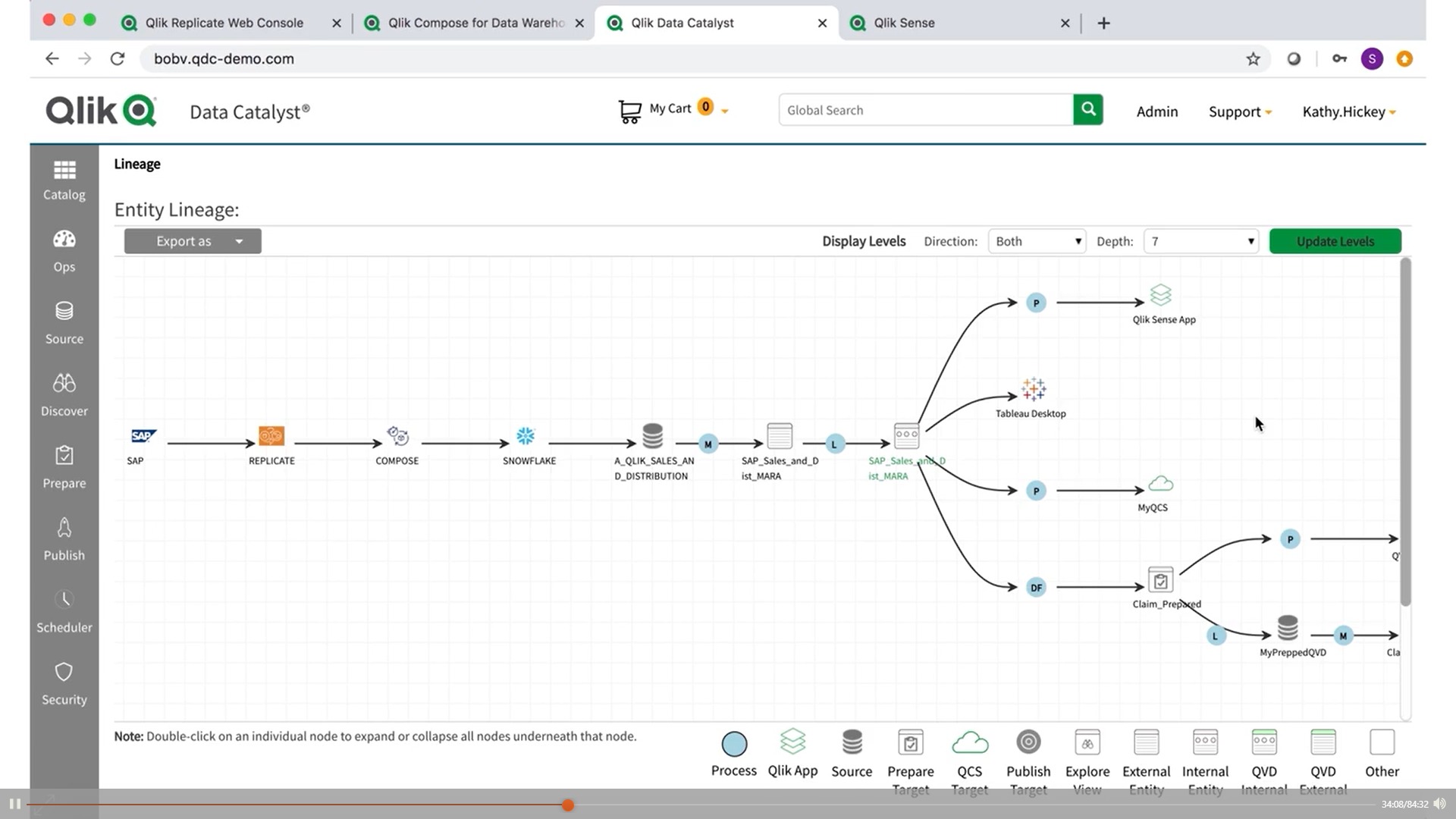 3. natural language processing BOOSTS DATA LITERACY
Qlik has been extensively pushing their data literacy program in the last years to help and improve the ability for users to read and interact with data. Besides the launched academic programs, Qlik improves their technology as well, to guide users to better decision making based on data. Today we saw big improvements in Qlik's natural language process capabilities, now able to convert even more complex, time-related questions. 
For Qlik's SAAS offering they are already one step further, currently, a user is only able to ask data questions within an app. Qlik showed us that in their next generation of the Qlik Sense hub, there is support for asking questions on an organizational level, helping users to find the right application within the Qlik Sense environment. The fact that Qlik is building trust between technology and humans by giving the user possibility to analyze based on which variables the suggestions were based is a brilliant initiative.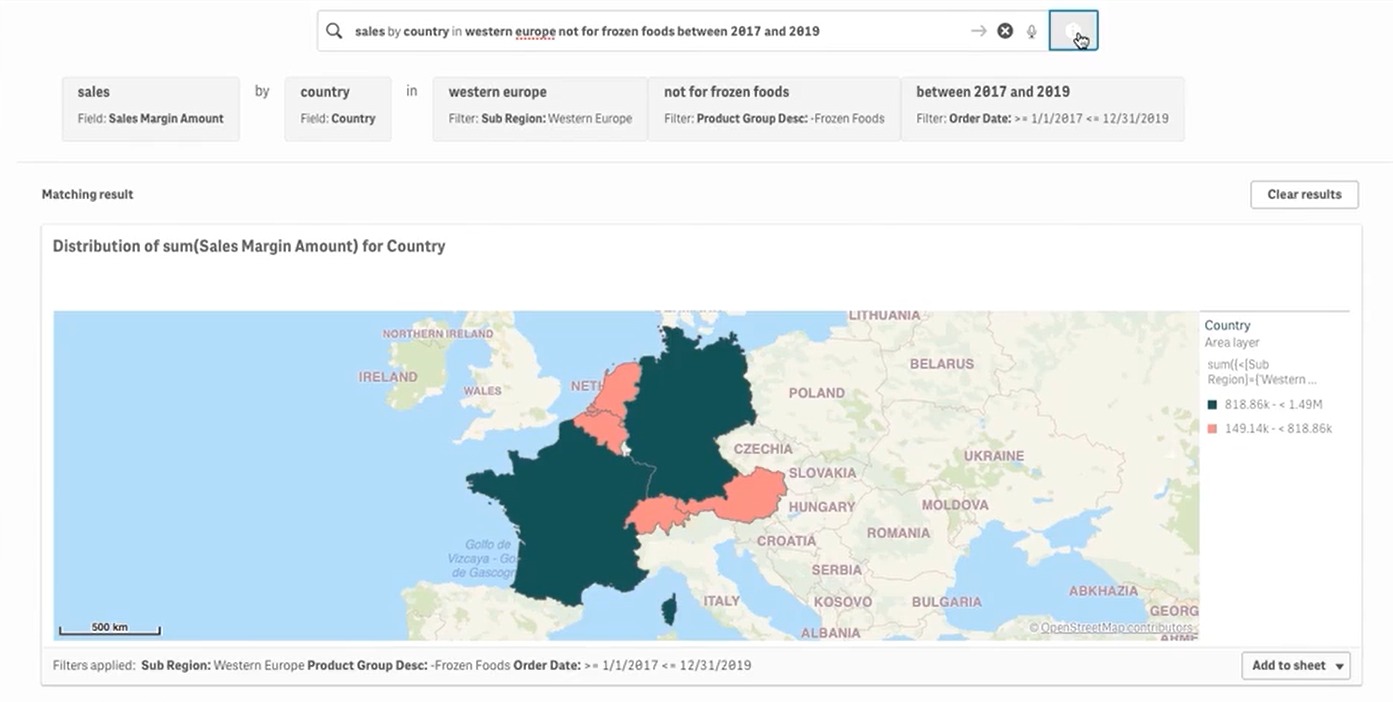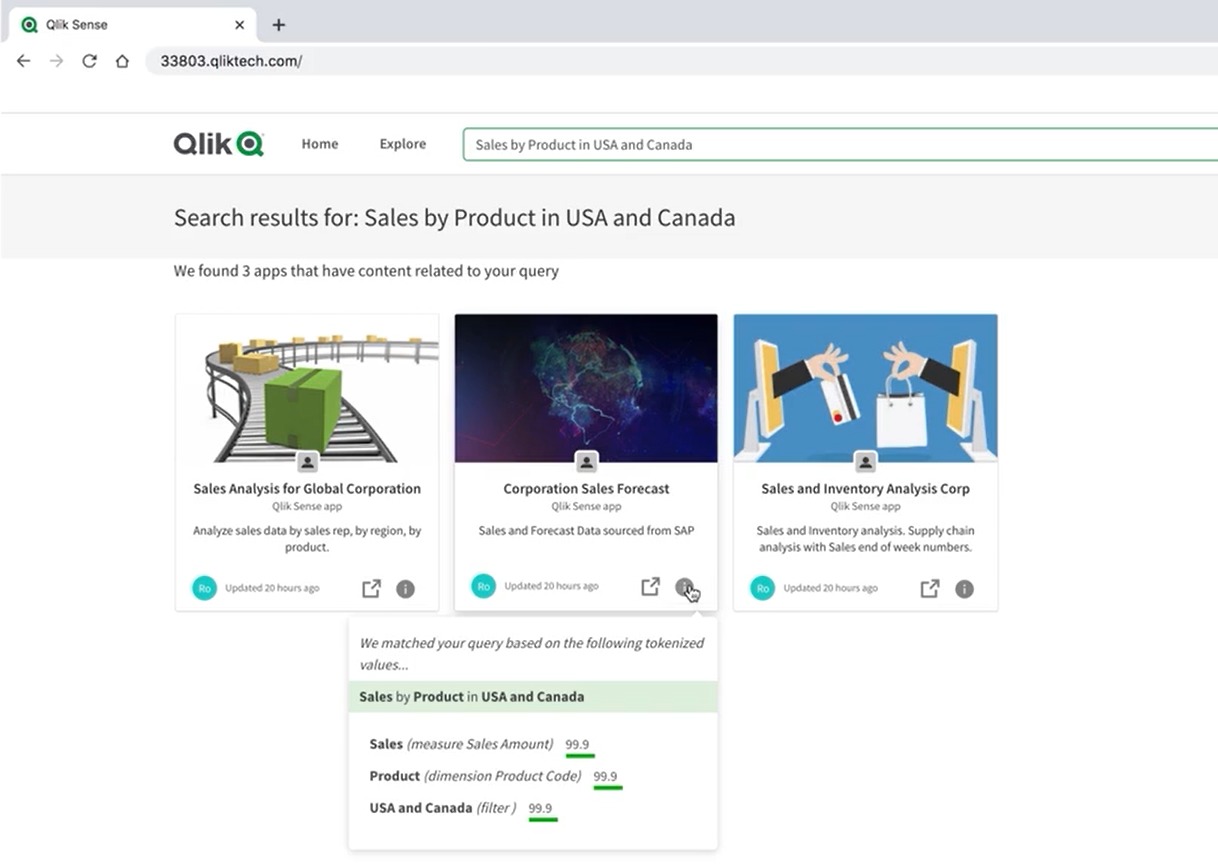 Now, let's act on it?! Download Qlik's Active intelligence summary!
According to Qlik, the world is looking increasingly bright and gap-free. Active Intelligence is Qlik's way of leading the shift into a new paradigm in data and analytics. Download Qlik's brochure "Accelerate Business Value Through Data and Analytics" to get a complete overview of their approach to real-time active intelligence. We look forward to joining their action-oriented journey. Any questions about the topics discussed? Don't hesitate to contact us!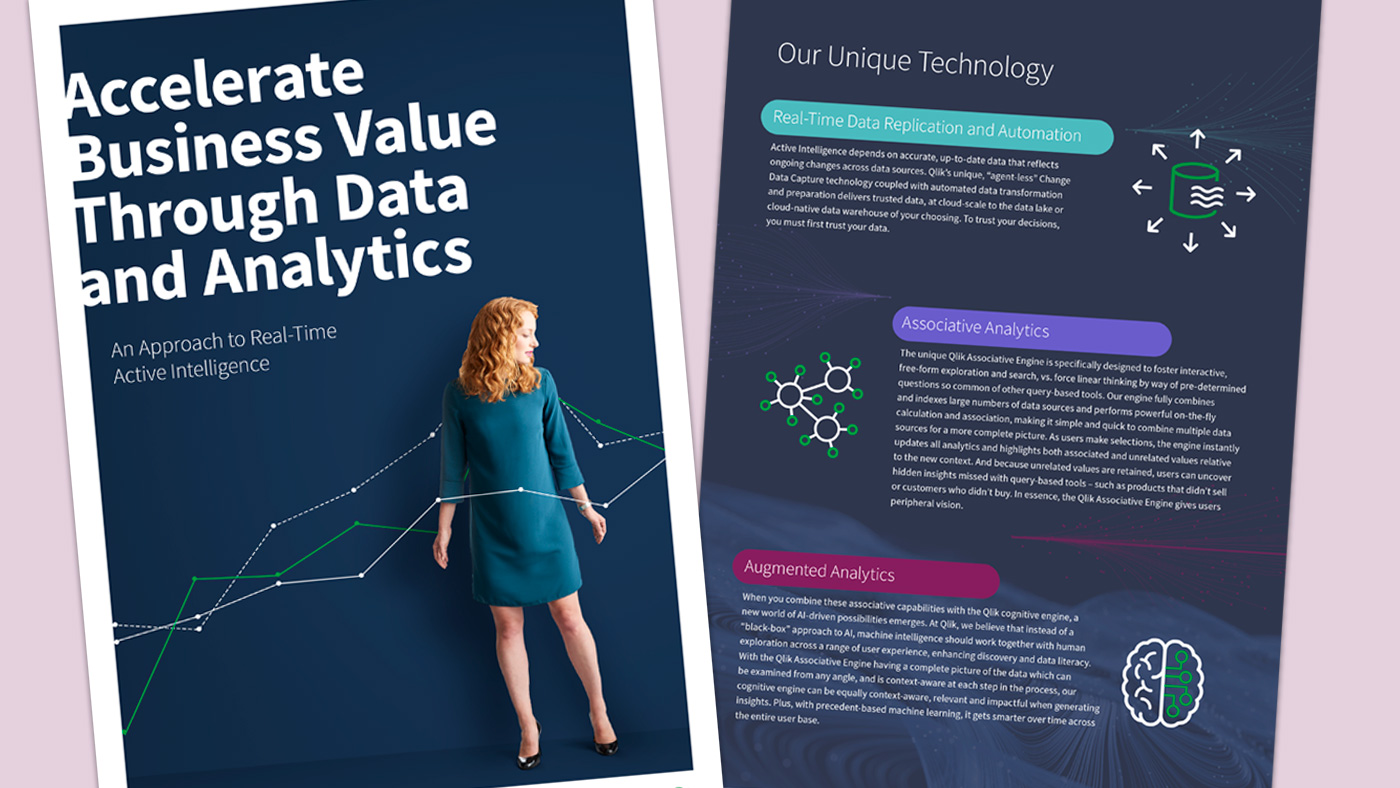 Want to learn more? Get the highlights from QlikWorld Partner Summit!
Blog: Cloud, Data Integration & Data Literacy –  The "future pitch" from QlikWorld 2020 Partner Summit
Want to learn more? Qlik made some announcements already in late April during the QlikWorld Partner Summit. Read our three main takeaways addressing analytics in the cloud, data integration and data literacy to get a hint of what's coming up. Learn more here >>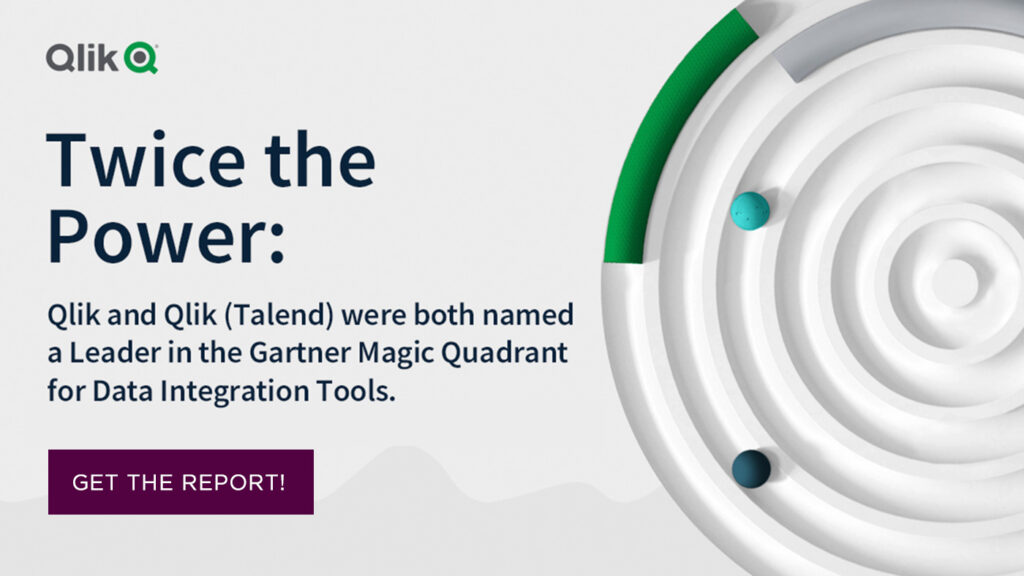 News
Looking for a Data Integration solution? With the ever-changing cloud and technology landscape, it can be challenging to find the right data solution for your needs. Read the 2023 Gartner Magic Quadrant report for Data Integration Tools for a quick view of the landscape and see why both Qlik and Talend have been named Leaders.
>> Get the report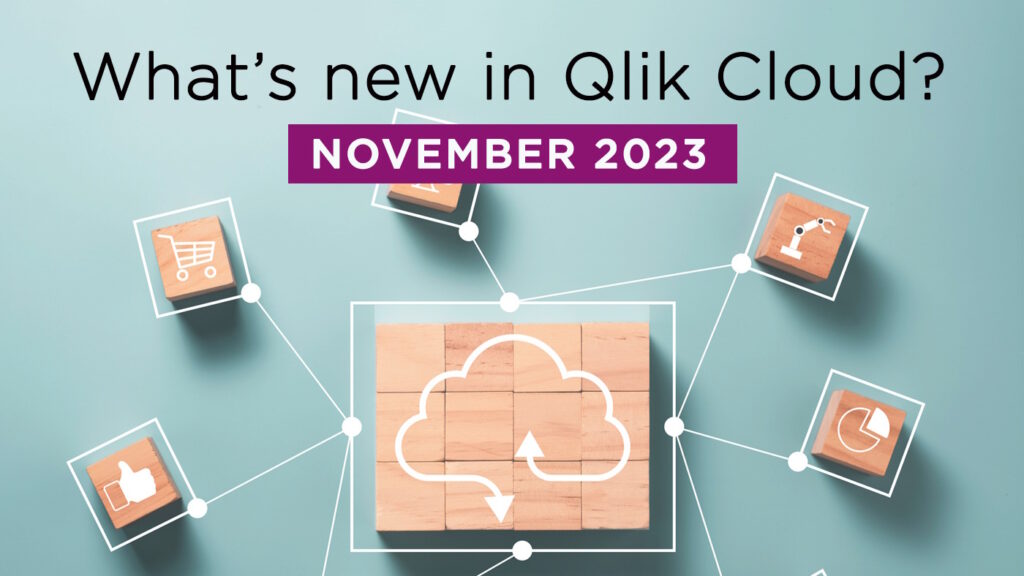 Blog
Here we give you the latest and greatest in new features added to the Qlik Cloud platform. It's now easier than ever to migrate your Qlik Sense apps to Qlik Cloud and to navigate between the Qlik and Talend Clouds if you are an existing Talend customer. Learn more in the blog!
>> Read more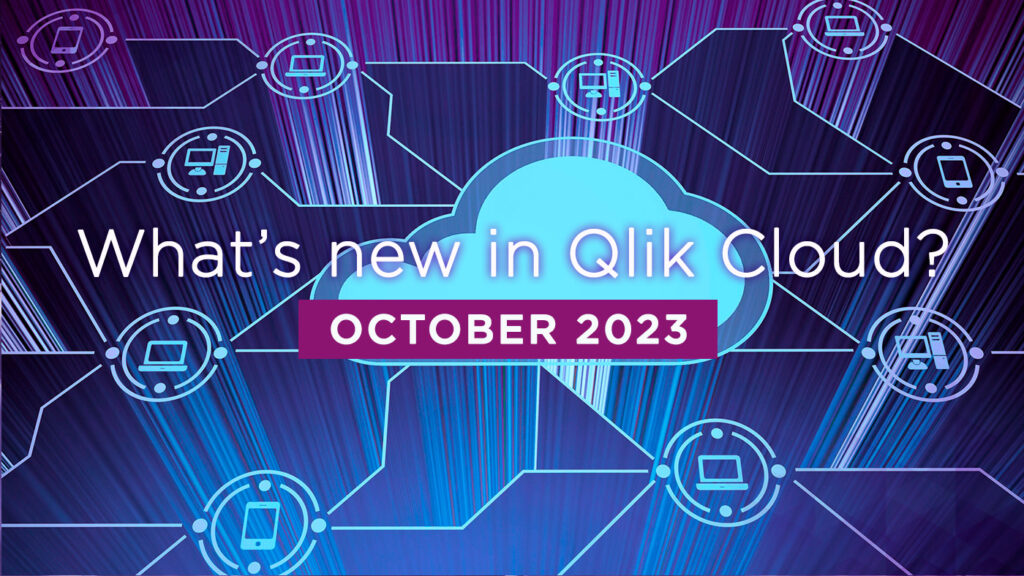 Blog
In this blog, Roger Gray and Mark James deep dive into Qlik's integration with AI technology that can help with the creation of Qlik application expressions and extend data interpretation. Read more about the latest updates added in Qlik Cloud in October.
>> Read more