Who is responsible for your Qlik environment?
Tricky question to answer?
Let Climber Expert Services help you! Do you lack skills or resources in-house? Or do you just want someone to take a holistic approach to your BI environment, so that you always know where to turn? We are certified Qlik experts, and our cloud – Climber Cloud – is optimised for Qlik. With Managed Qlik Services by Climber you get a contact point for everything that applies to your BI. We can help your BI department to become the pilot in your business' cloud journey.
Does this image feel familiar?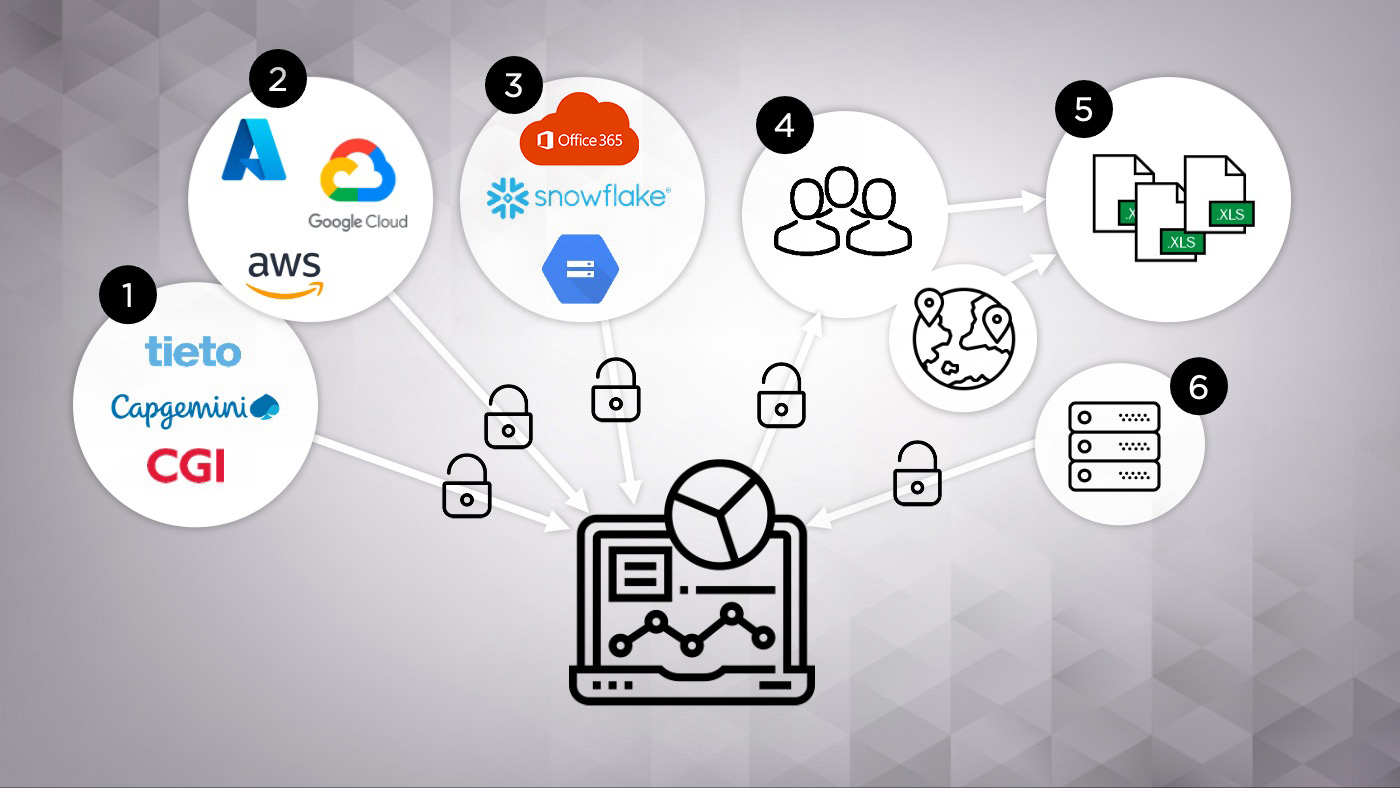 1. You store your data in your private cloud via an external IT partner …
2. or in an external cloud service …
3. besides that you could also store data in an external cloud database.
4. Your users need easy and secure access to your data – but everybody shouldn't have access to everything. Users are also likely to be geographically dispersed …
5. and they have files that they've created themselves stored locally on their computers …
6. or they are stored on local databases, which they share internally with other users.
If you review this set-up, it's reasonable to ask:
Is our Qlik environment working for us?
Is it user-friendly?
If something goes wrong, who do we ask for help?

We have the solution

– 

Managed Qlik Services by Climber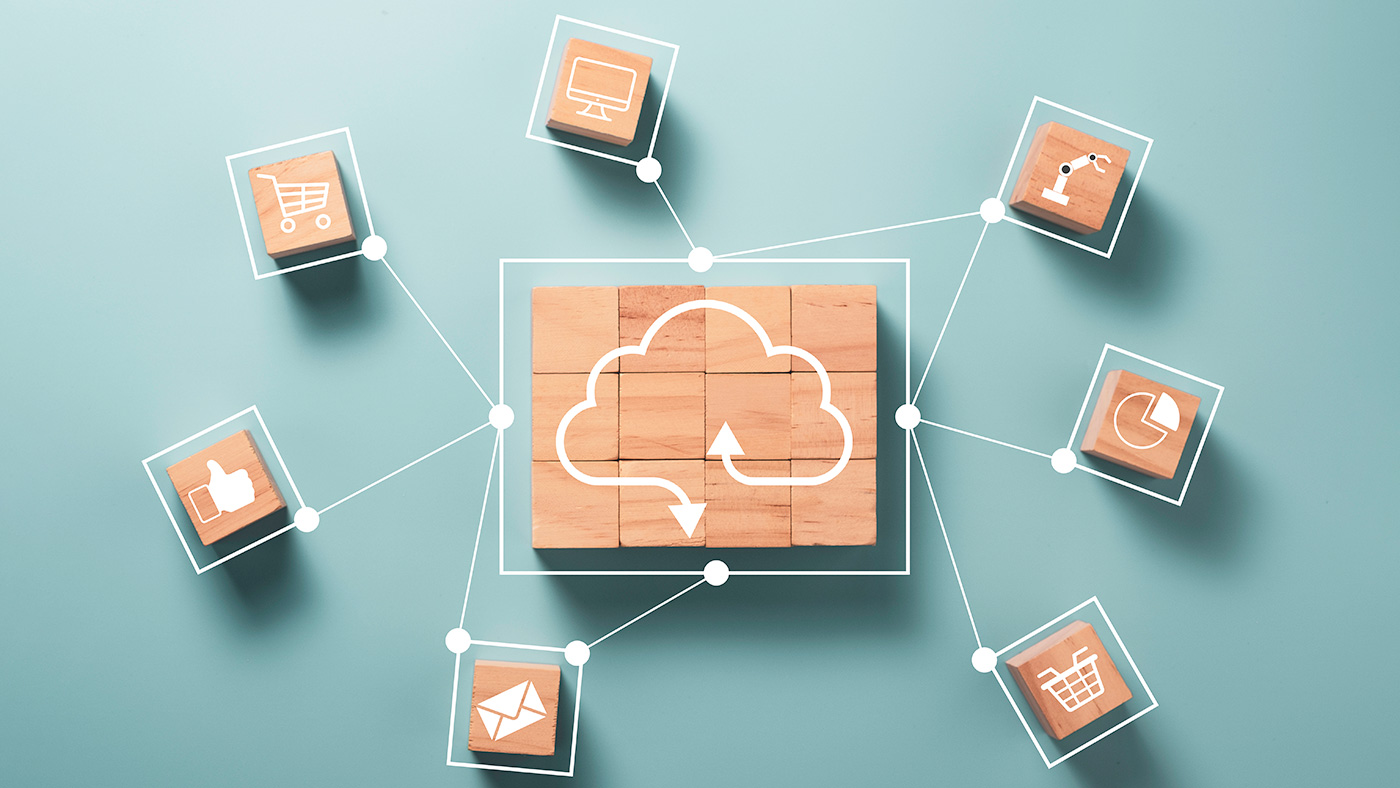 A seamless cloud service that is technologically independent and can provide a "one-stop-shop" for everything concerning your BI. Our Climber Expert Services team host and manage your set-up and your integrations and will continually support and monitor your BI environment.
Our hardware is designed for Qlik, and we'll build a unique environment for you based on your needs. We optimise according to data sources, what system (AD) the users are in, where they are geographically, and how and what they are looking at.
You'll get a dedicated contact who is responsible for ensuring that your hardware, operating systems, security, data sources and reloads for Qlik are optimised and work as they should. If any questions arise, you'll know immediately who to contact. And you can be up and running in just a couple of days!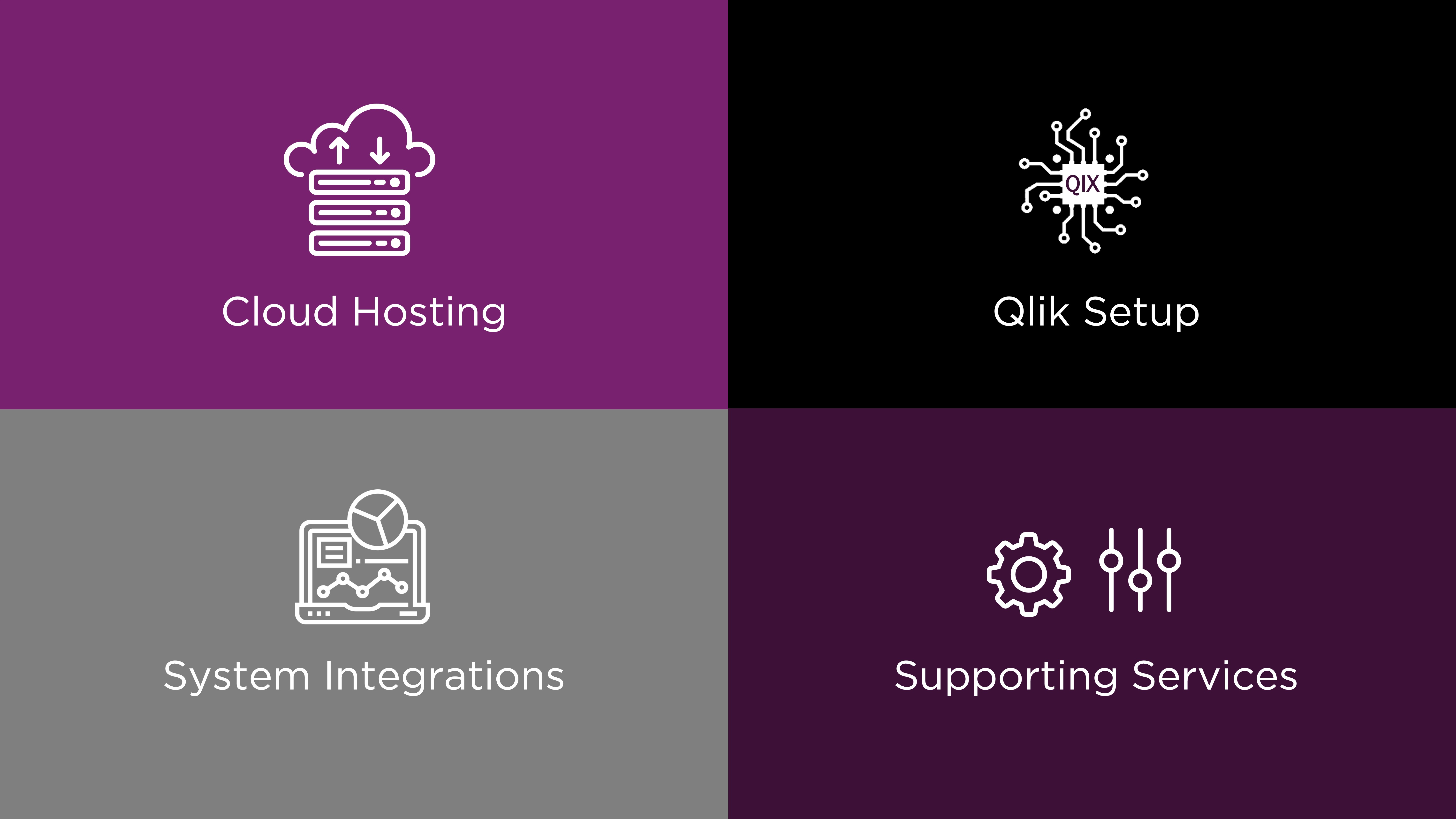 Cloud Hosting
Hosting and set-up of your BI environment in the Climber Cloud, an IT environment optimised for Qlik run by certified Qlik Experts – Climber Expert Services – with solid backend experience. You get an elastic, scalable solution with dedicated hardware to optimise capacity and performance. Servers, CPU, memory and disks, installation, patch, monitoring, and back-up included.
Qlik Set-up
Set-up of your Qlik environment in the Climber Cloud. We install, upgrade, monitor, and configure with the latest functionality to make everything work flawlessly. We also set up security rules for users, data, and applications.
System integrations
Integration between environments to maximise performance and user experience. Included is set-up and optimisation of VPN, SSO, firewall, and network for your entire BI environment.
Support services
Continuous monitoring and support of your BI environment. One single point of contact for everything that concerns your BI and Qlik estate.
Why choose MQS over 100% Qlik SaaS or the Public Cloud?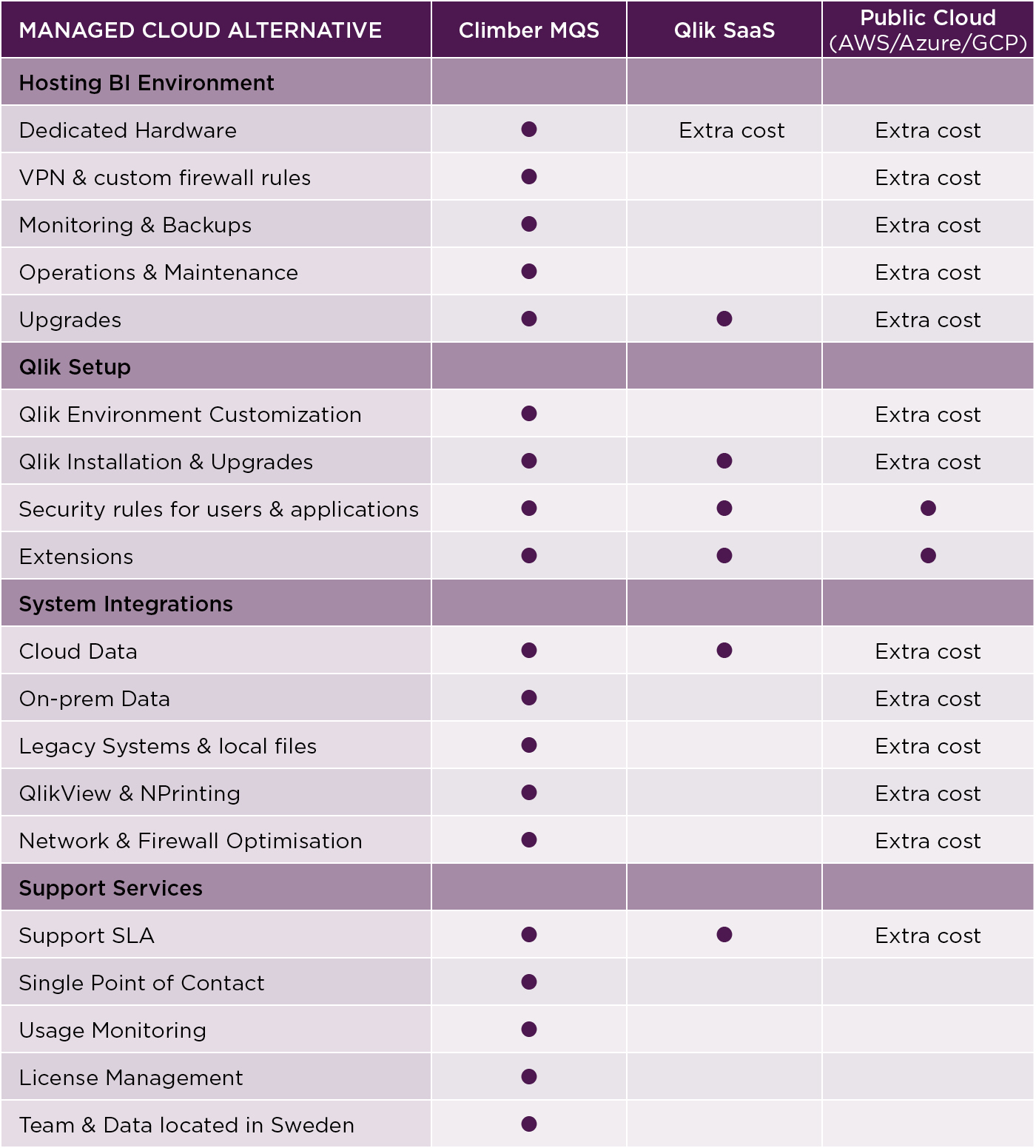 The cloud – more flexible, agile, and
opens up opportunities for innovation
– but how do you get there?
As IT departments develop cloud strategies, it's important that your BI environment doesn't lag behind. You may have even started to think about Qlik Sense SaaS? Everyone wants lower Total Cost of Ownership and access to the latest functionality and a scalable environment. But it's not quite that simple, is it?

Climber's Hybrid solution
Step by step to Qlik SaaS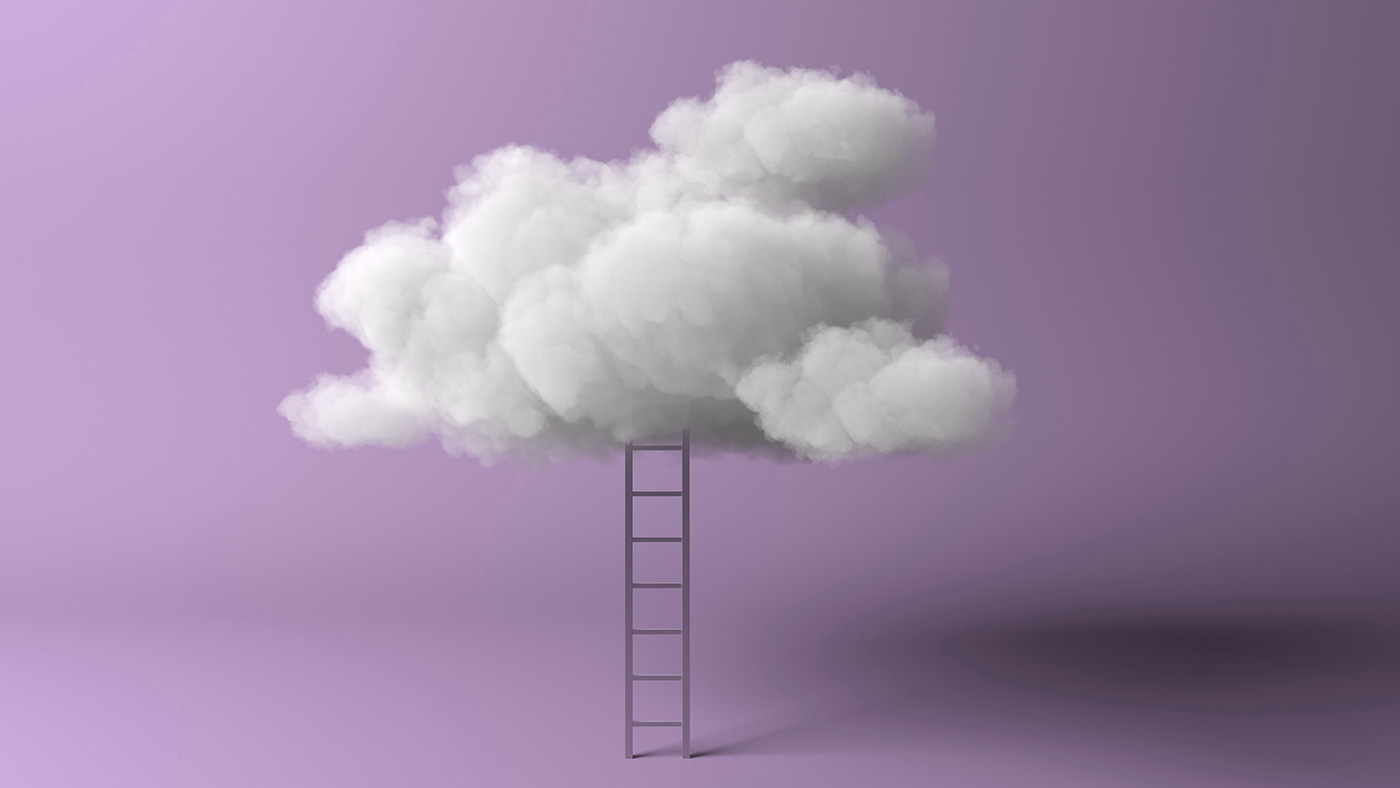 There are many benefits to Qlik Sense SaaS, and this is where Qlik invests for the future. With Qlik Sense SaaS you always have an updated version of Qlik and access to the very latest functionality.
But even if development is rapid, there are some challenges. Today there is no support for extras such as Qlik Nprinting and Geoanalytics. You may also have policies and regulations on how to handle your data, or you just want to keep control over it. Questions that arise are: where is your data, who has access to it, and who has had access to it? Maybe you work in older systems that cannot be integrated. We can solve all these challenges for you with our hybrid solution in Climber Cloud.
The move takes place step-by-step at your own pace. As the functionality increases and the product matures, we can move more and more parts to Qlik Sense SaaS. No matter how long or short your trip takes, we are there to support you along the way. Climber Cloud will be the hub in the middle of your various platforms.
For a start, Climber Cloud may be your main backend; all development takes place here, we pull down data, process it, and post it to Qlik Sense Saas. For users, this is of course a seamless experience. As the platform develops, the share in Qlik Sense SaaS grows and the share in Climber Cloud decreases. Finally, we may only handle your older systems and if you have any applications left in QlikView. However, we'll always be able to support you end-to-end, as we have both designed and built your environment. If something goes wrong, you'll know immediately where to turn!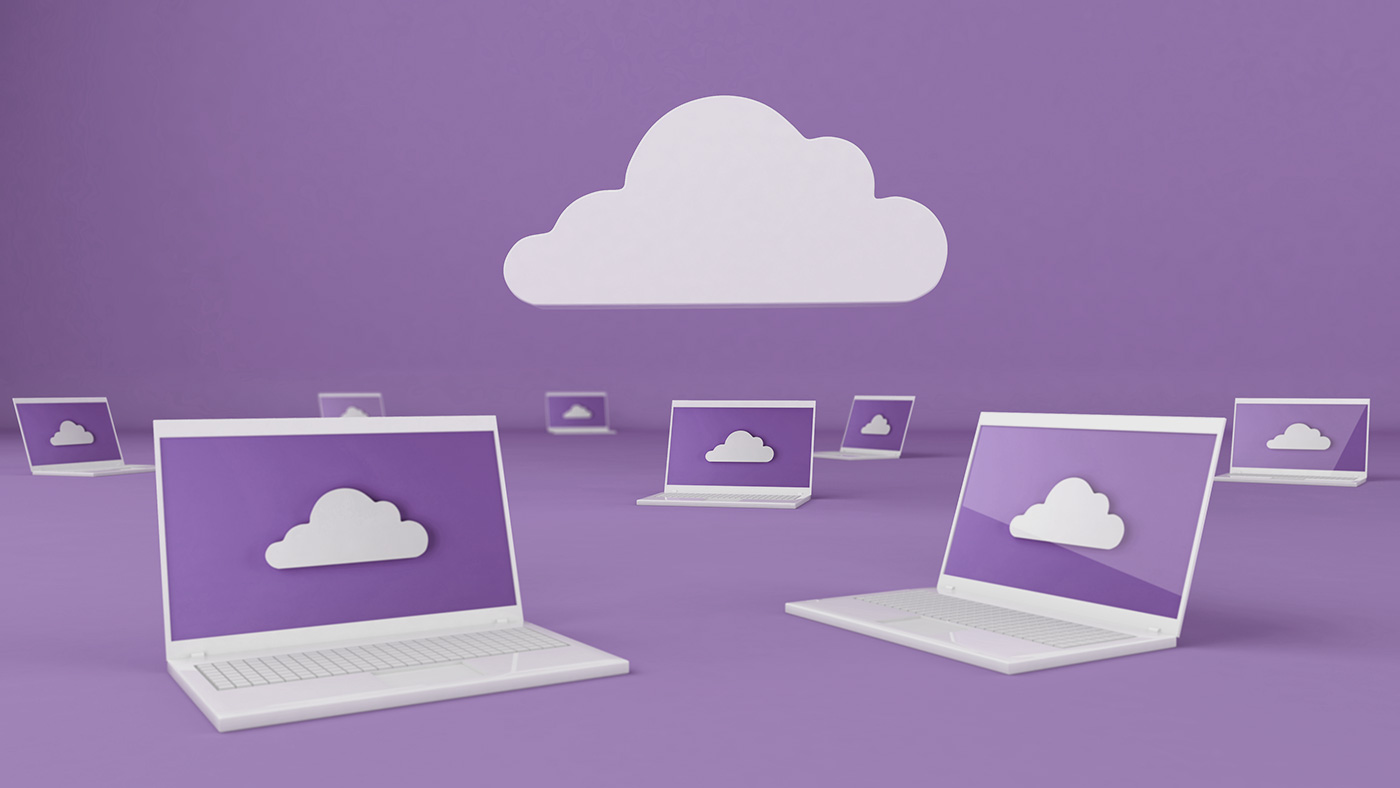 DO YOU WANT TO LEARN MORE ABOUT MANAGED QLIK SERVICES BY CLIMBER? CONTACT US!
Do you want more information about MQS by Climber? Contact us!
Contact us about MQS by Climber!