Bring more power to your Qlik Sense
To drive decision making and improve business outcomes, you don't just need to report on your data, you need to tell a powerful story with it.
With Vizlib's value-added extensions for Qlik Sense you can power-up your visualisations and dashboards. With its advanced capabilities you have complete control over all the design elements of your reports and can add smart, customised functions and visualisations.
Vizlib makes Qlik Sense more powerful, versatile and easier to use, so people across your business can engage with your data. In other words, Vizlib Extensions bring extra out-of-the-box value.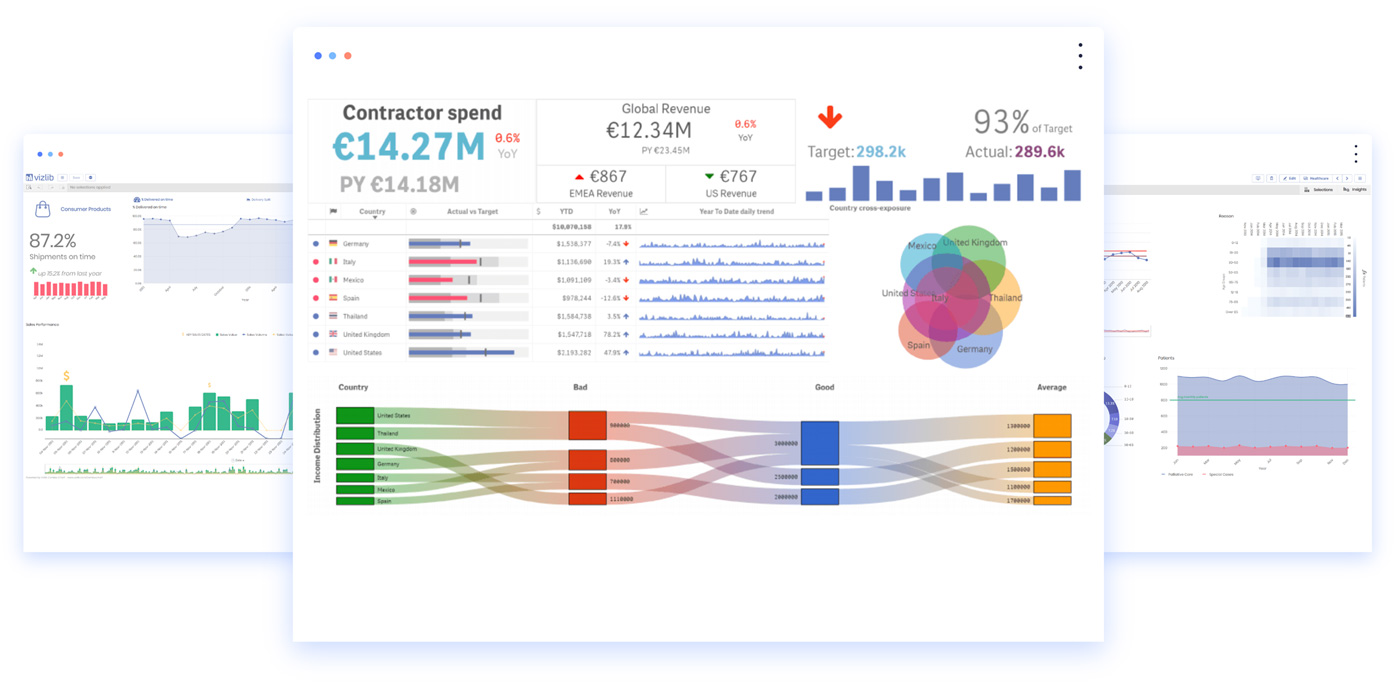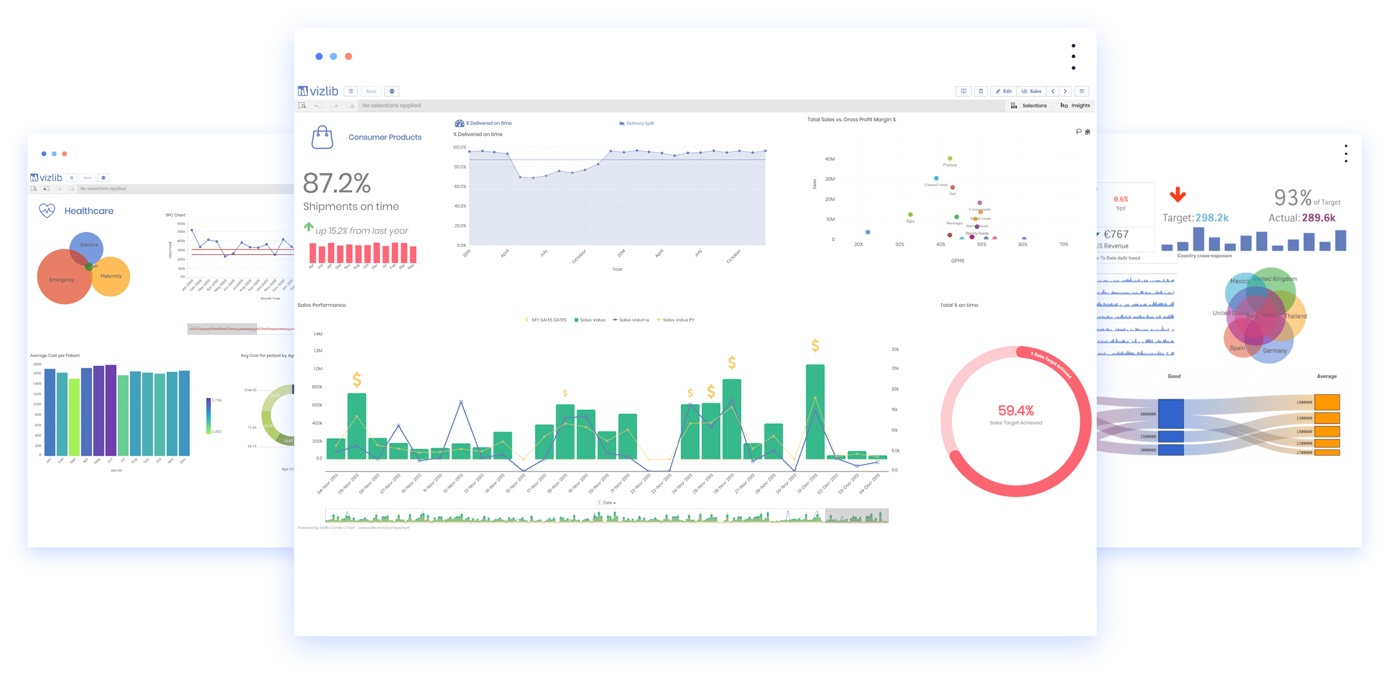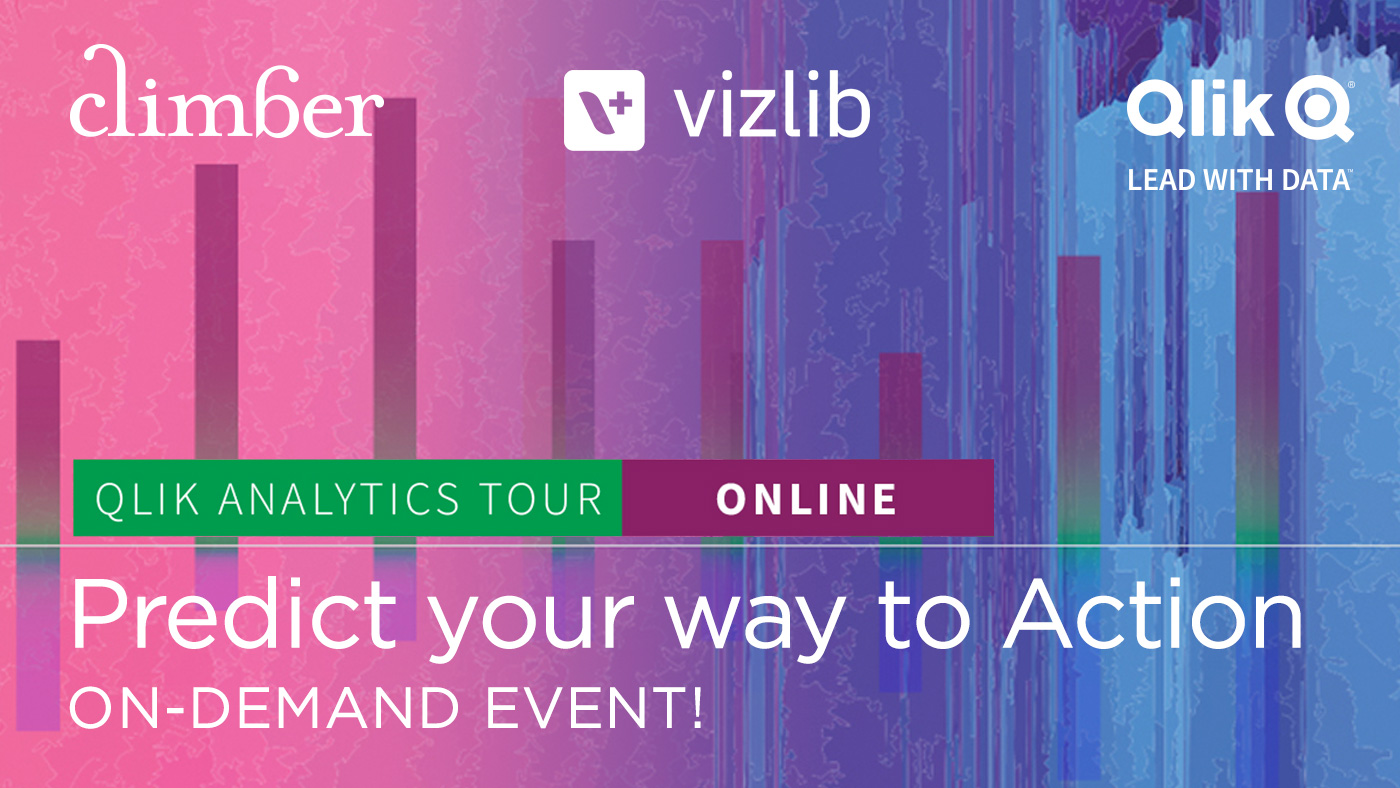 ENABLING PREDICTIVE ANALYTICS TO THE PEOPLE
QLIK ANALYTICS TOUR INTERNATIONAL 2020 – ON DEMAND
Join us for an online masterclass on how to accelerate actions through Augmented Data Analytics at the Qlik Analytics Tour 2020, available on-demand!
Our friends at Vizlib will showcase how any user can leverage advanced analytics on the fly to predict the best action to follow up, with the help of smart visualisations, clustering and collaboration in Qlik Sense. The on-demand webinar is free!

BUY VIZLIB'S VALUE-ADDING EXTENSION PRODUCTS VIA CLIMBER
As a Vizlib partner we provide the complete range of functions and visualisations that will meet the needs of your company.
In fact, we have plenty of experience in developing extensions ourselves including the Custom Report and Finance Report which are both TED (Trusted Extension Developer) accredited by Qlik. In 2019, Vizlib acquired all Climber Extensions and continue to expand the value-added capabilities as part of their wider product offering for Qlik Sense.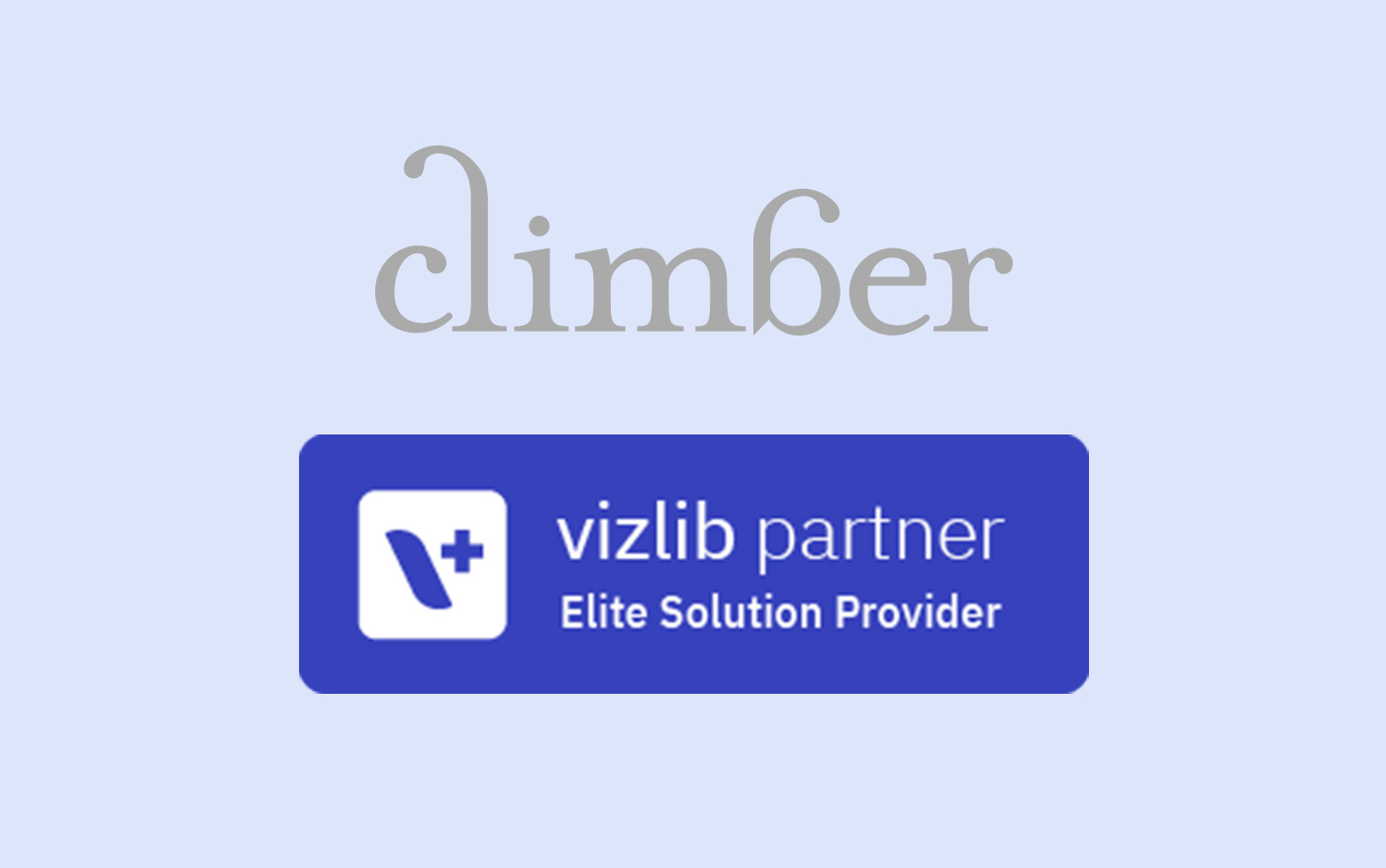 Which Vizlib extensions are available?
Vizlib's value-added extension products are offered in five different packages to meet all your visual and functional needs.
Vizlib Library – a broad range of visualisations that support the UI design and help create an intuitive and attractive user-experience.
Vizlib Self Service – enhances both data literacy and makes data accessible to everyone within the organisation.
Vizlib Finance – allows you to add P&Ls and balance sheets in Qlik Sense and add real-time comments to your reports.
Vizlib Collaboration – takes communication to a whole new level, making your organisation more transparent.
Vizlib Gantt – helps keep your projects on track.

– VIZLIB LIBRARY –
EASIER NAVIGATION AND SMARTER CHARTS
With Vizlib Library, you can customise visualisations with zero coding. It is intuitive and easy to use, so you can quickly create engaging dashboards that tell the compelling story you're looking for.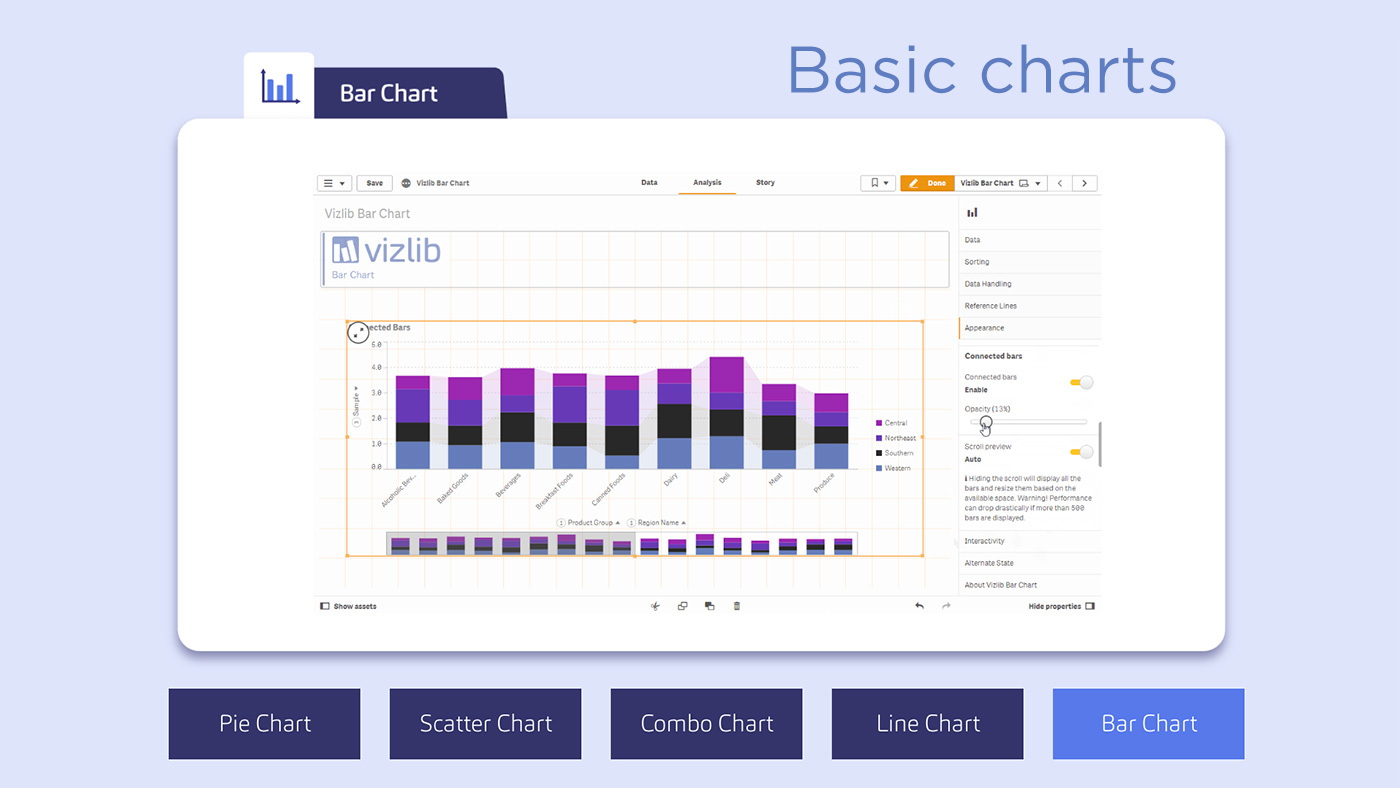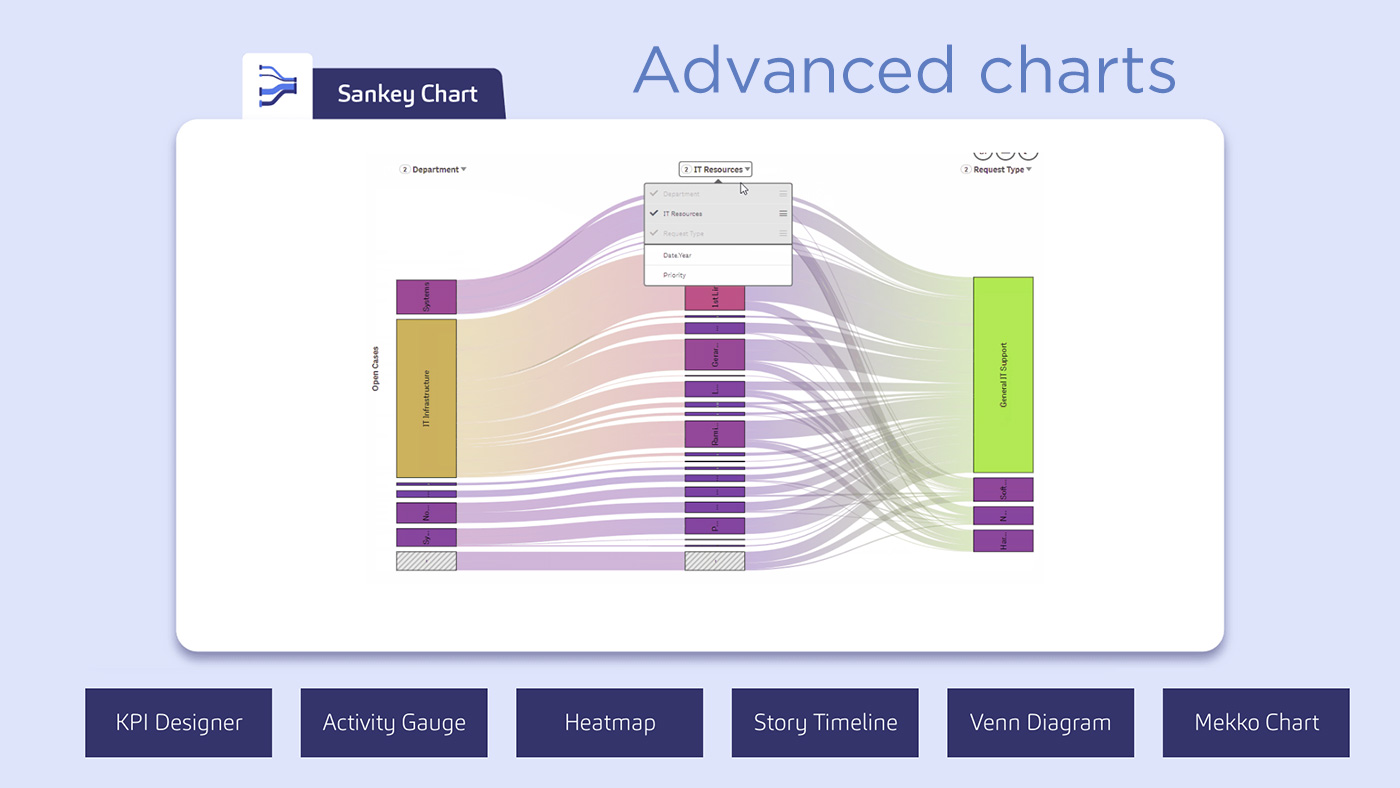 BASIC CHARTS
There's nothing basic about the functionality here, just a range of visualisations that you won't be able to live without. They include Pie, Scatter, Combo, Line and Bar charts, as well as the most popular dashboard functions such as reference lines, HTML tooltips, support for alternate states, customisable backgrounds and more. On top of that, you get access to advanced analytics capabilities including forecasting and clustering.
ADVANCED CHARTS
Advanced Charts make it easy to create dynamic, interactive dashboards that provide speedy access to your data. These visualisations help you raise the bar on your dashboards in terms of style and functionality. They make it easier to identify outliers that you can drill down into. Advanced charts include extensions such as Sankey Chart, KPI Designer, Activity Gauge, Heatmap, Story Timeline, Venn Diagram and Mekko Chart.
COMPONENTS
These smart components will help you create a neat, well-organised dashboard. Here you'll find everything you need to configure your apps. With rich styling and formatting options, they can seamlessly blend in with your dashboard's unique design. Components include extensions such as Slider, Calendar, Advanced Text Object, Filter and Line Object.
NAVIGATIONAL ELEMENTS
Sheet Menu – allows you to group and organise your apps for quick and easy access and is a great alternative to complex mashups. Sheet menu enables you to move with ease between Qlik Sense visualisations, individual diagrams as well as dashboards. You can navigate your data with just a couple of clicks.
Container Grid – is a flexible container that helps you organise your diagrams in an optimal way and elevate your user-experience to new heights. The container greatly accelerates your build time, supporting a selection of pre-sets and a responsive grid mode, making it easy to create user-friendly dashboards.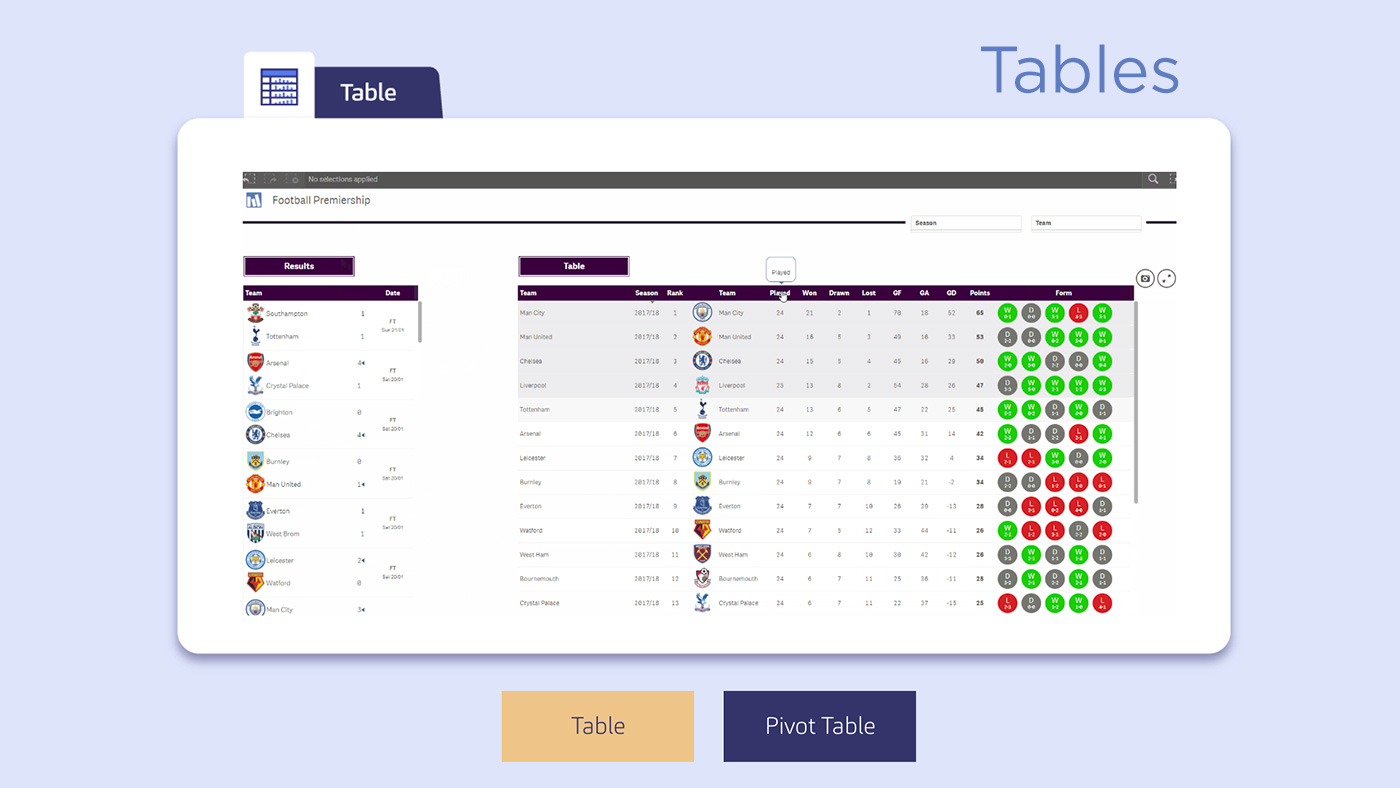 TABLES
Both the pivot table and straight table give you the power to arrange and visualise your data in a way that is easy to read, analyse and act upon. These tables offer a wide range of functions that simplify and enhance your user experience. Dynamic column resizing, indicators, HTML tooltips and a host of formatting options are just a few.
THE COMPLETE VIZLIB LIBRARY BIBLE!
Want a complete overview of the Vizlib Library? This PDF-catalogue gives you detailed information of all the visualisations included in the library.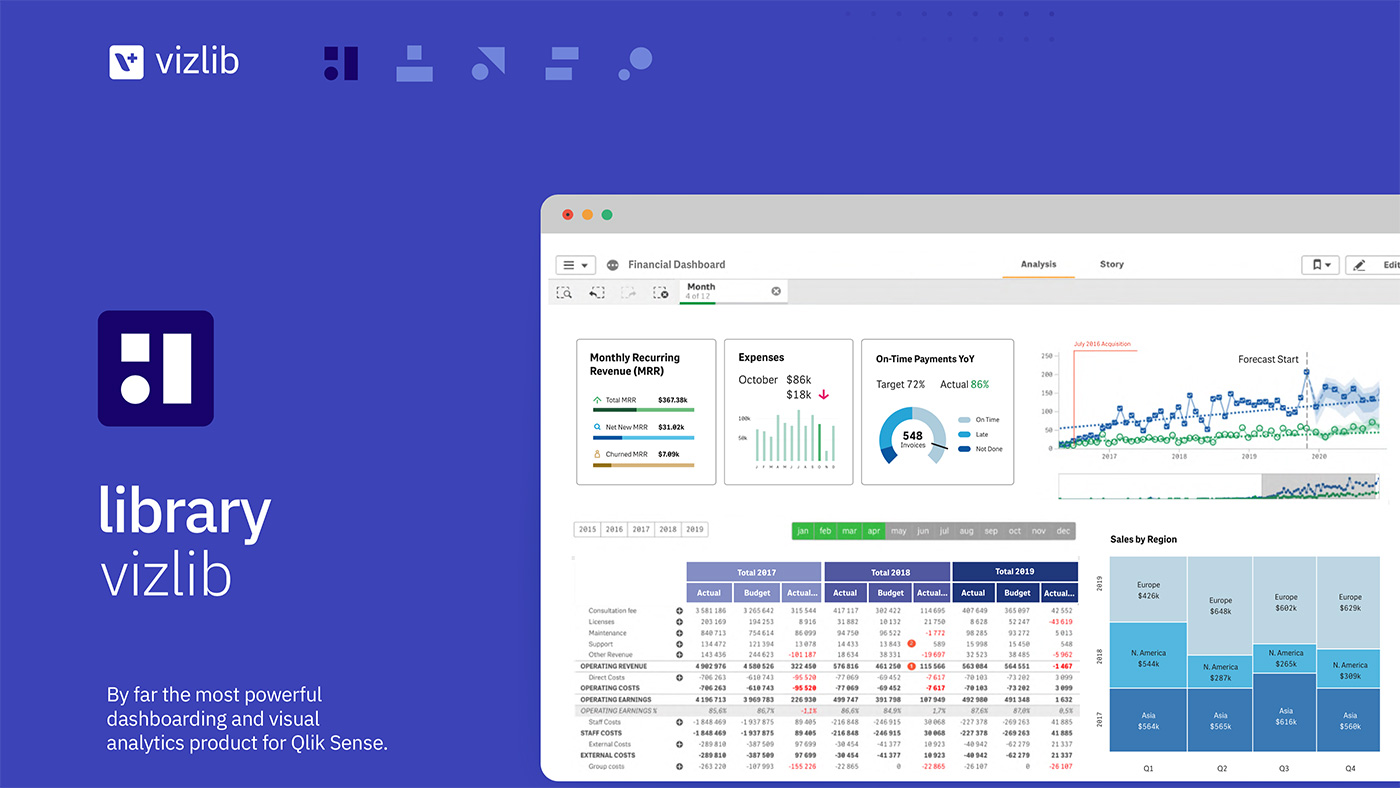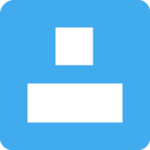 – VIZLIB SELF-SERVICE –
DIY – CREATE YOUR OWN REPORTS AND GRAPHS
 Self-Service allows you to sort, analyse and visualise data without any help at all from your BI or IT team. It not only enhances data literacy in your business, it gives you more time to spend on what really matters – analysis, drawing conclusions and making better informed decisions.

CUSTOM REPORT
Custom Report (previously Climber Custom Report Extension) allows you to configure your tables exactly as you wish, without having to wait for help from your BI or IT department. With Custom Report you can create dynamic tables and pivot tables, based on data in master tables.  You can easily select your dimensions and measures, and move columns and rows, to create the view you need, without having to click on the edit button or having to worry about the calculations being correct or not. You can also save pre-set layouts.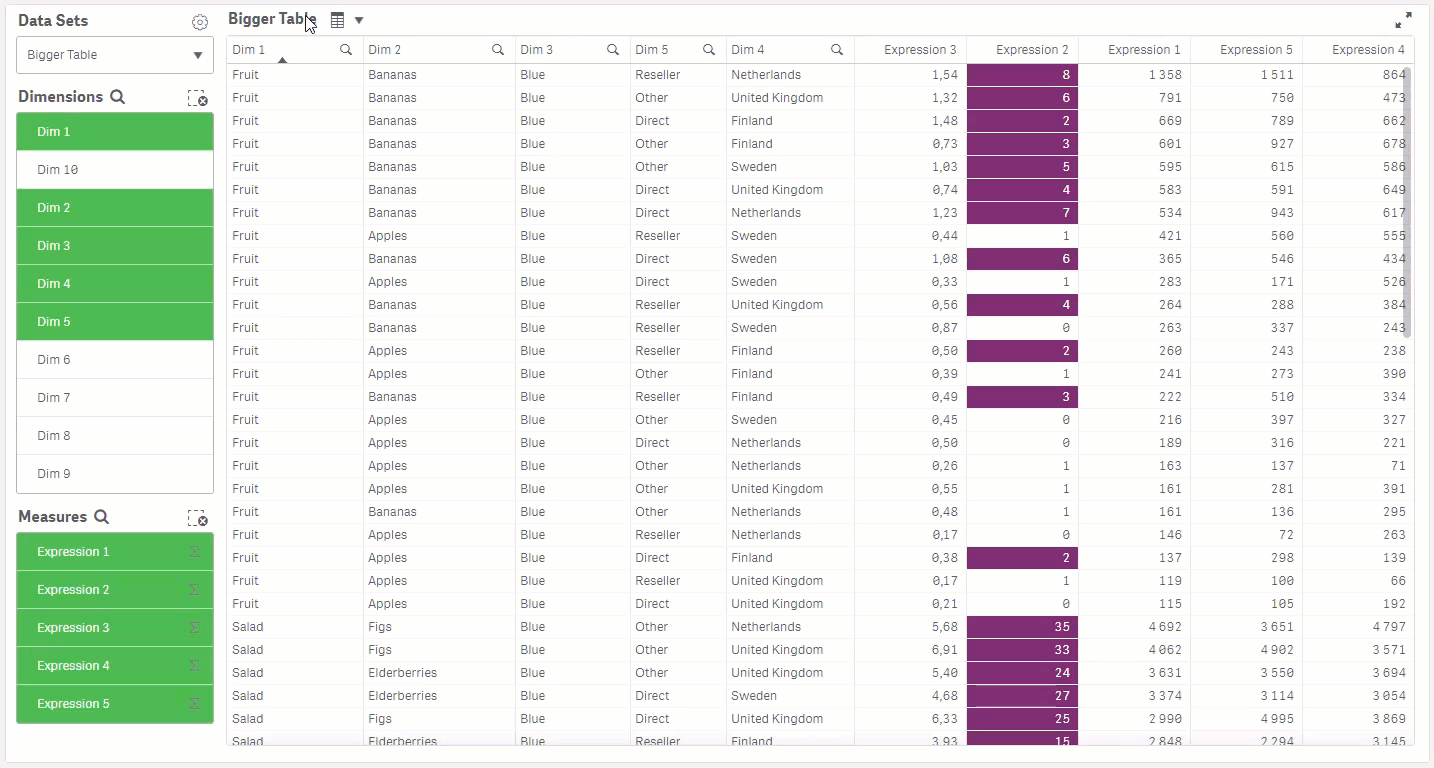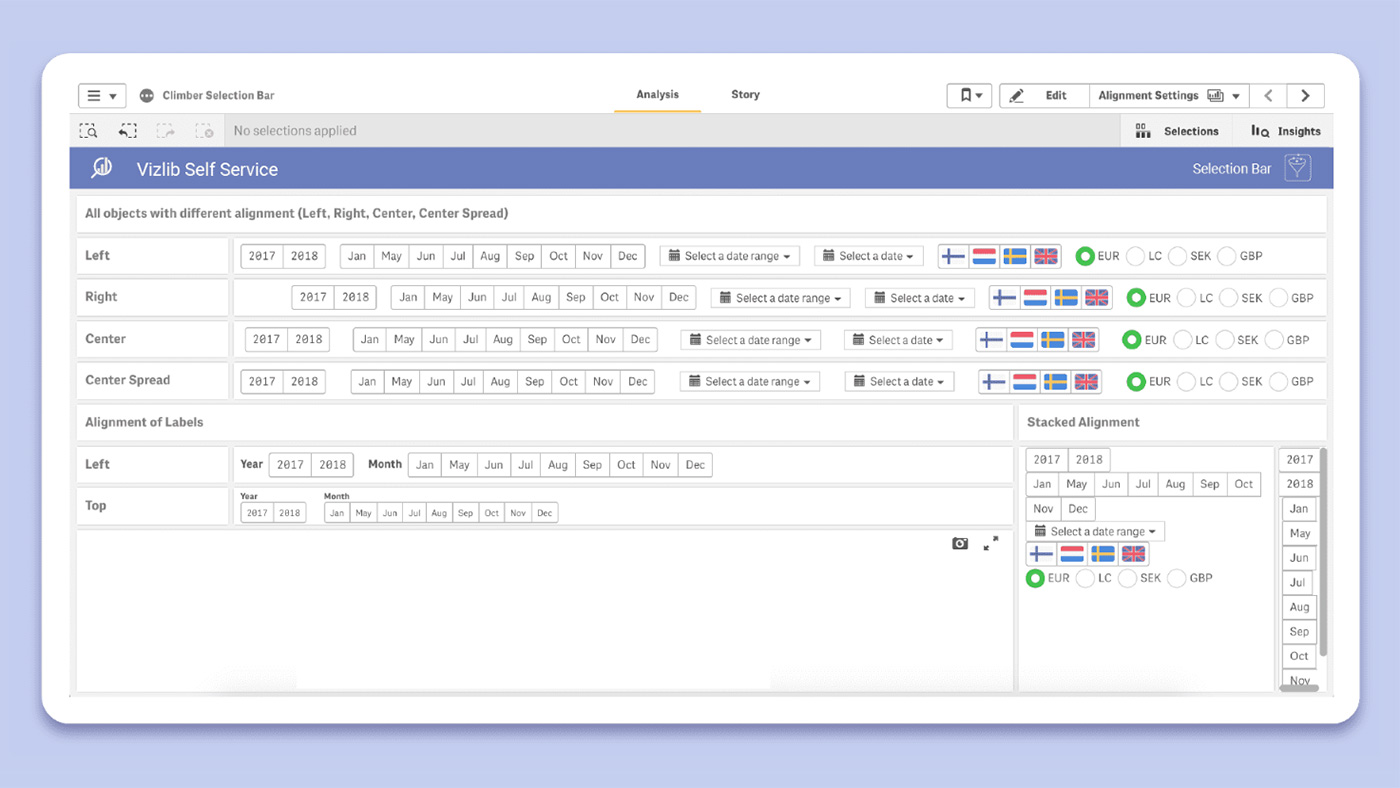 SELECTION BAR
This horizontal selection bar has pre-selected values that allow fields, variables and flags to be displayed. Selection bar (previously Climber Selection Bar) is perfect for creating neat and well organised toolbars. You can also link to other Qlik Sense documents, set variables and select dates quickly, while it helps you keep tabs on where you are.
KPI EXTENSION
KPI Extension (previously Climber KPI Extension) shows KPIs and trends in the same object. Configurable colours and trends make it easy to compare target to actuals over time, which gives a lot more insight than a simple number but still looks great. KPI Extension is fully responsive, and works just like a standard object in Qlik Sense, making it easier to navigate between your dashboard and details on other sheets.
CONTAINER BOX
When there is only so much space and you still want a lot of options Container Box is the solution – a simple but powerful addition to the Qlik Sense interface. The Container Box gives the option to include alternative objects in the same space. Select with ease the objects you want to show via menus or icons. And you can go as far as adding container within a container! Container Box was previously known as Climber Container Extension.
CARDS EXTENSION
With Cards Extension (previously Climber Cards Extension) you can add pictures to your tables and bring more visuals to your visualisations! You can, for example, include images of products, logos or even people, making your lists more dynamic and more visual.
THE COMPLETE VIZLIB SELF-SERVICE BIBLE!
Want a complete overview of Vizlib Self-Service? This PDF-catalogue gives you detailed information of all the extensions included in the Self-Service package.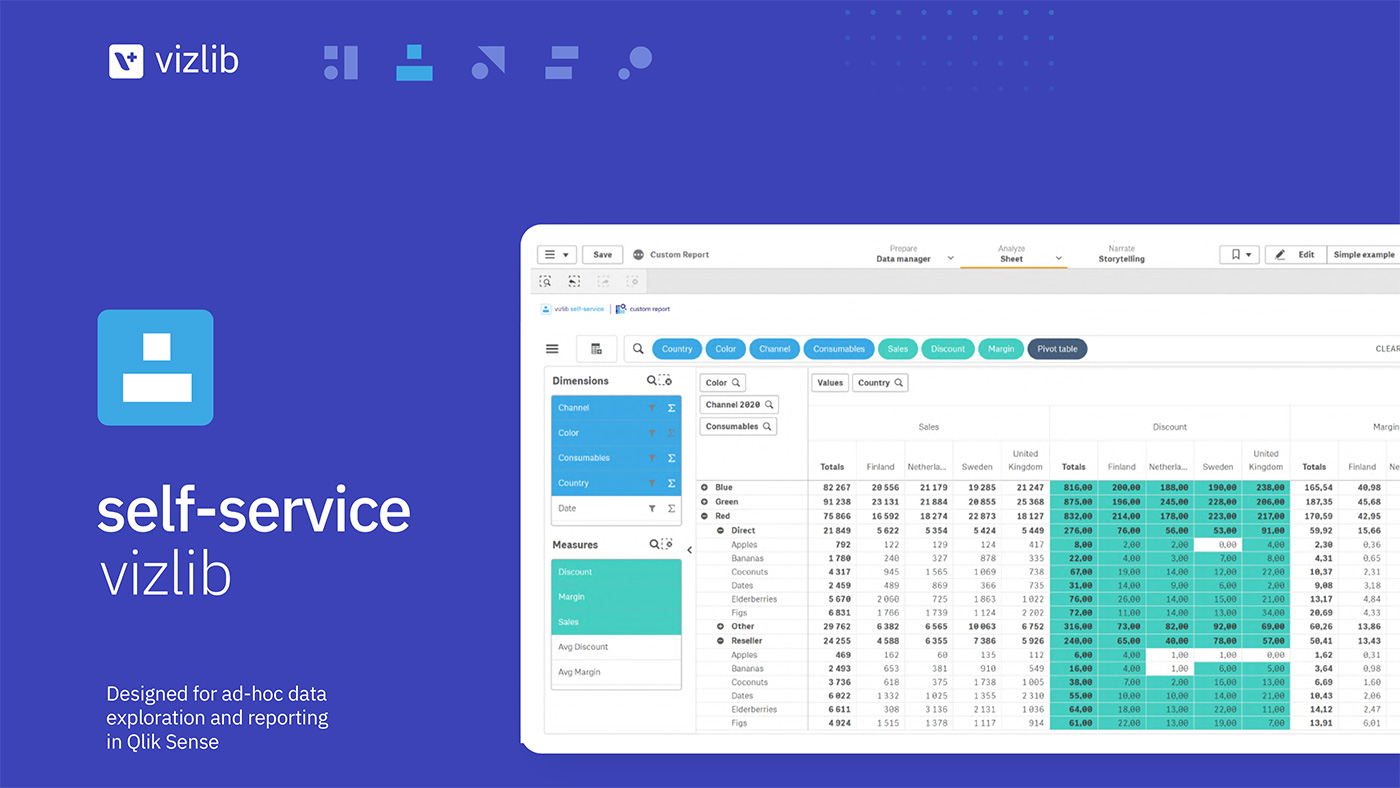 – VIZLIB FINANCE Report –
DYNAMIC P&L, BALANCE SHEET AND CASH FLOW
Finance departments have unique analysis and reporting needs that set them aside from other business areas. Finance Report (previously Climber Finance Report Extension) delivers P&Ls and balance sheets to please your CFO. The advanced formatting and customisation functionalities help create smart and engaging reports. Users can drill-down into the data to explore and discover meaningful insights faster. Check out the video to see how it works!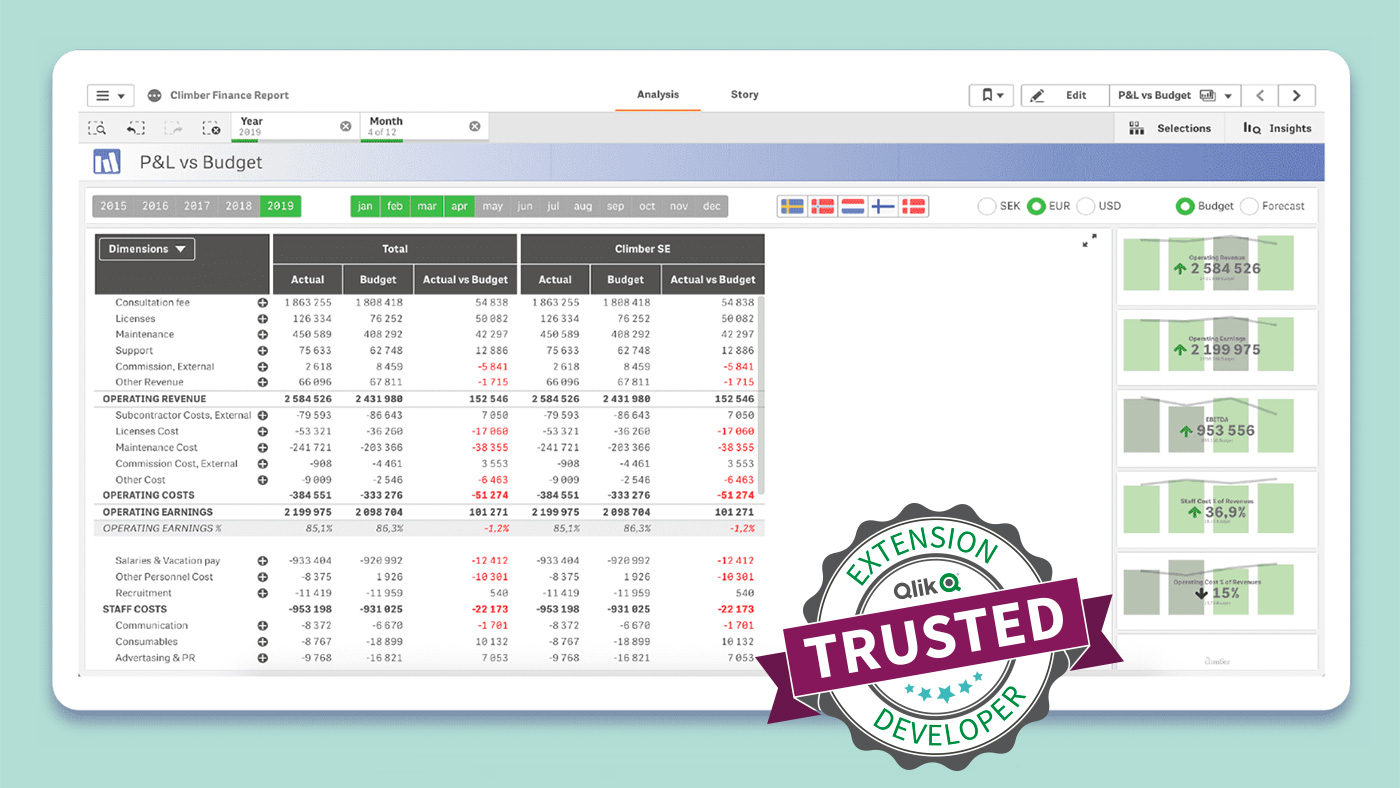 Finance departments have unique analysis and reporting needs that set them aside from other business areas. With Finance Report (previously Climber Finance Report Extension), we have created tables that specifically meet these needs, making it easy to create the kind of P&L your organisation needs. Users can drill-down into their data to explore and discover meaningful insights faster. Check out the video to see how it works!
REAL-TIME COMMENTARY
Reporting suddenly steps up a level when you can add real-time comments to your reports. With Real-Time Commentary all comments are visible directly without reloads or waiting. No more confusion or back and forth. The set-up is completely secure and allows multiple levels of reporting. For example, a business unit can comment solely on their data, while the regional manager can add further comments and the CEO sees the whole picture.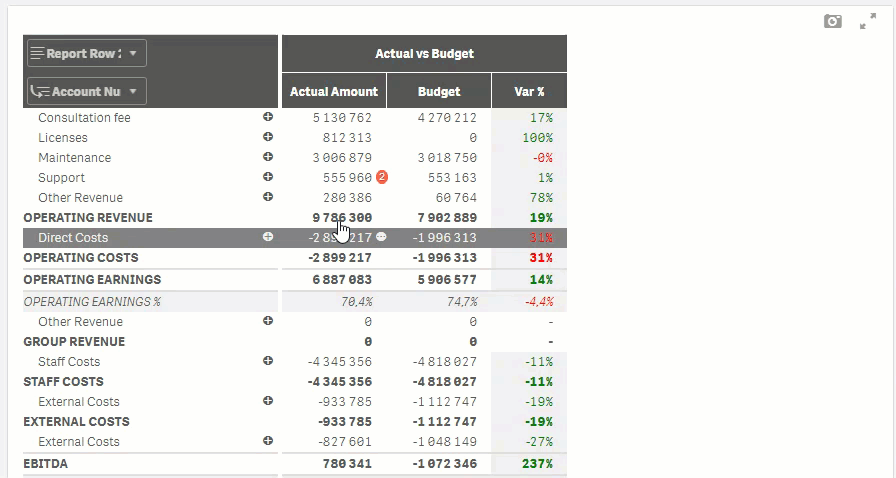 COMPLETE GUIDE TO VIZLIB FINANCE!
Want a complete overview of Vizlib Finance? This PDF-catalogue provides you with everything you need to know about all the features included.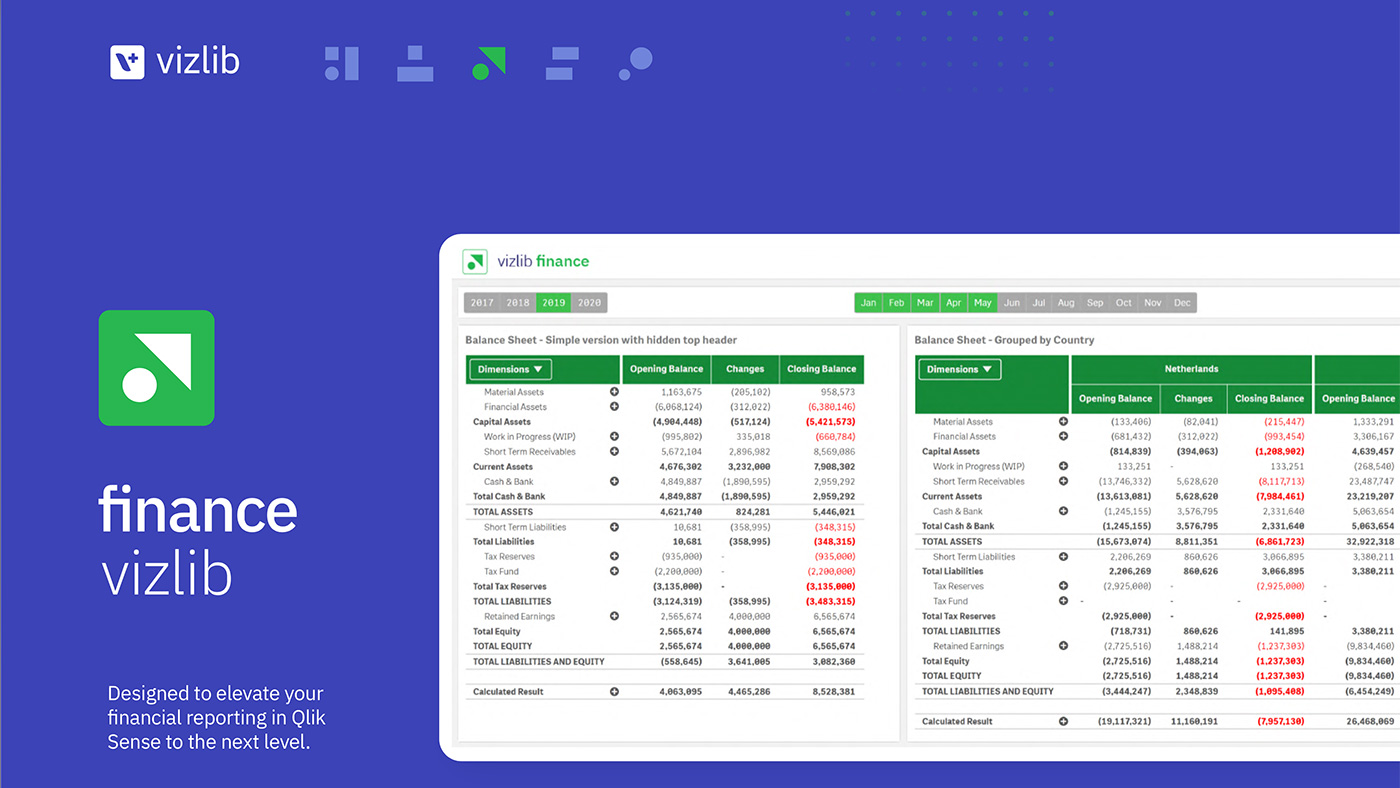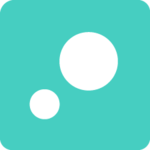 – VIZLIB COLLABORATION –
COMMUNICATE, COMMENT, CHAT, COLLABORATE – INTEGRATE AND RECEIVE ALERTS
A brand-new way to bring people and data together. See what happens to your decision-making process when you empower your team to handle data confidently and converse, collaborate and share knowledge directly in Qlik Sense. Raise the bar – help your team to use a common data language and become data literate – all with a single plug-and-play extension.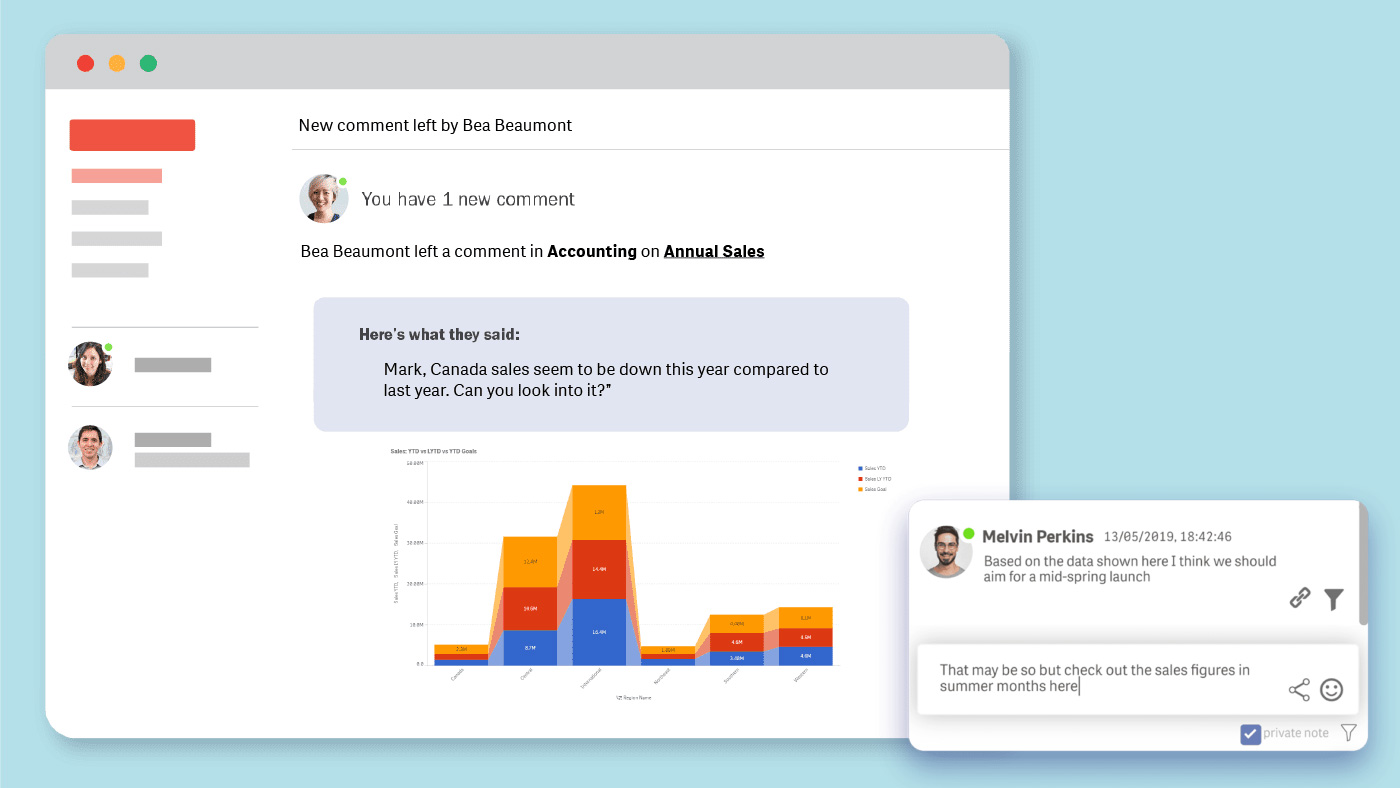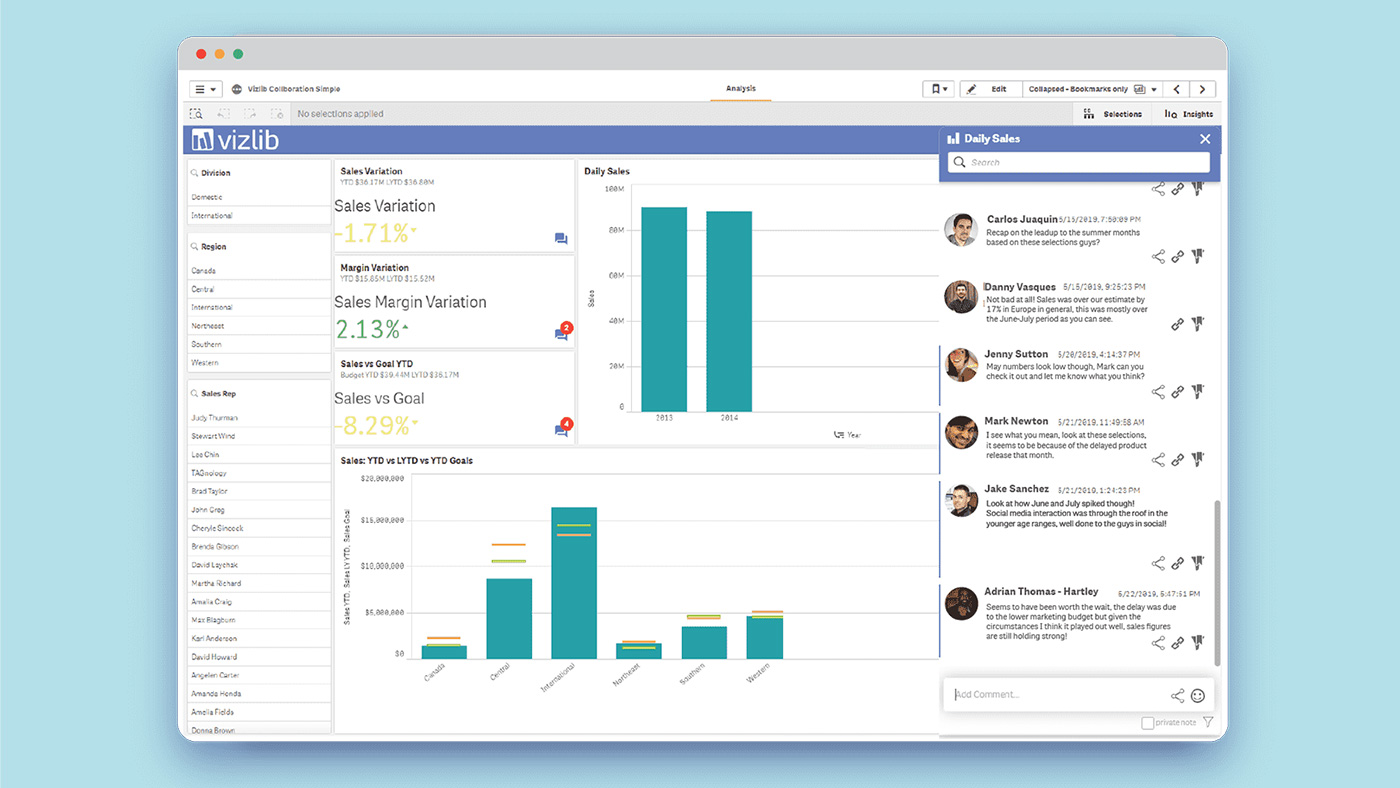 Vizlib Teamwork
Vizlib teamwork helps you keep all relevant communication in one place, chat to colleagues and gather feedback in real-time. Share comments and send notifications with a chart reference via email, Slack or Teams. You can comment at Master Item level or on the whole sheet, and all comments are securely saved online, on-premise or in your private cloud. You can create and share bookmarks with the same selections to provide more context and avoid miscommunication, and even take private notes on specific selections, charts or the whole sheet.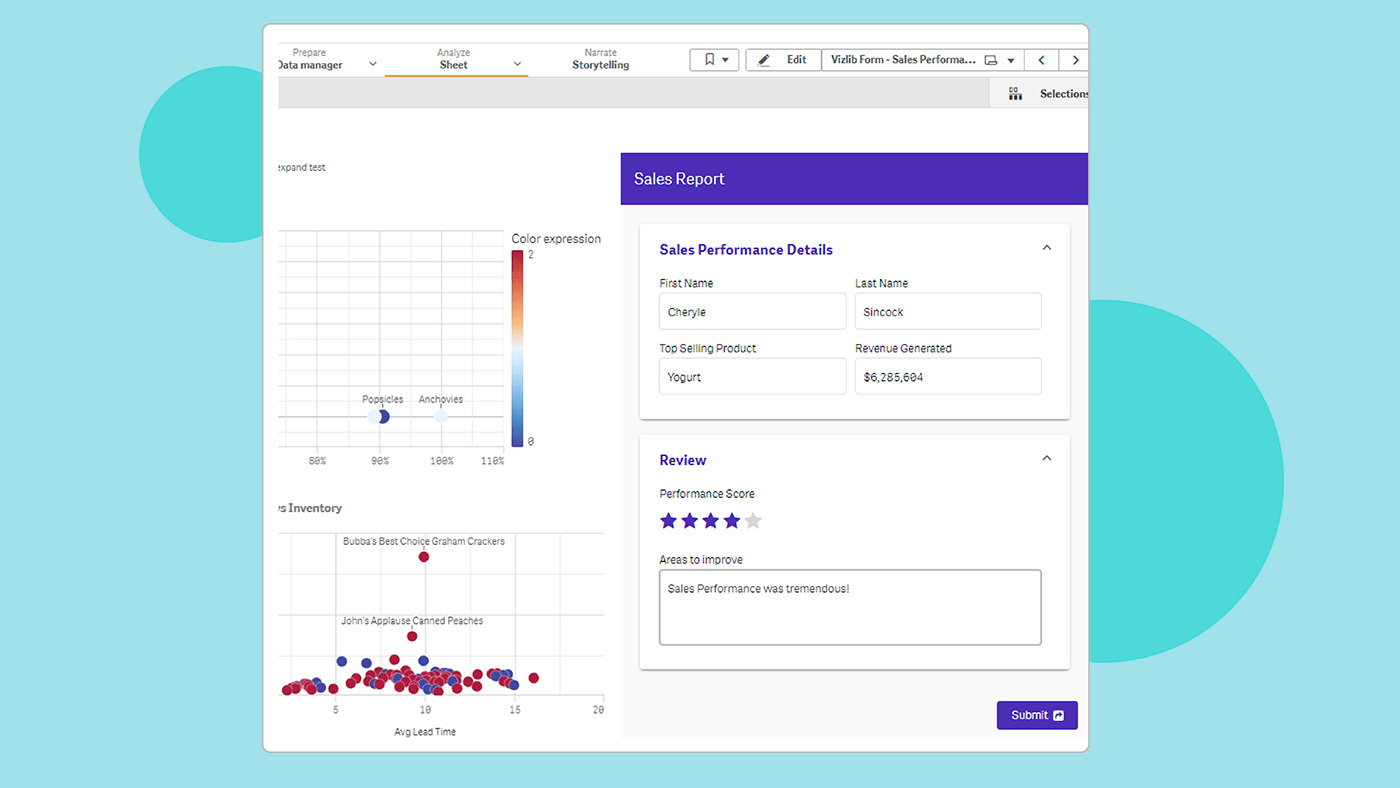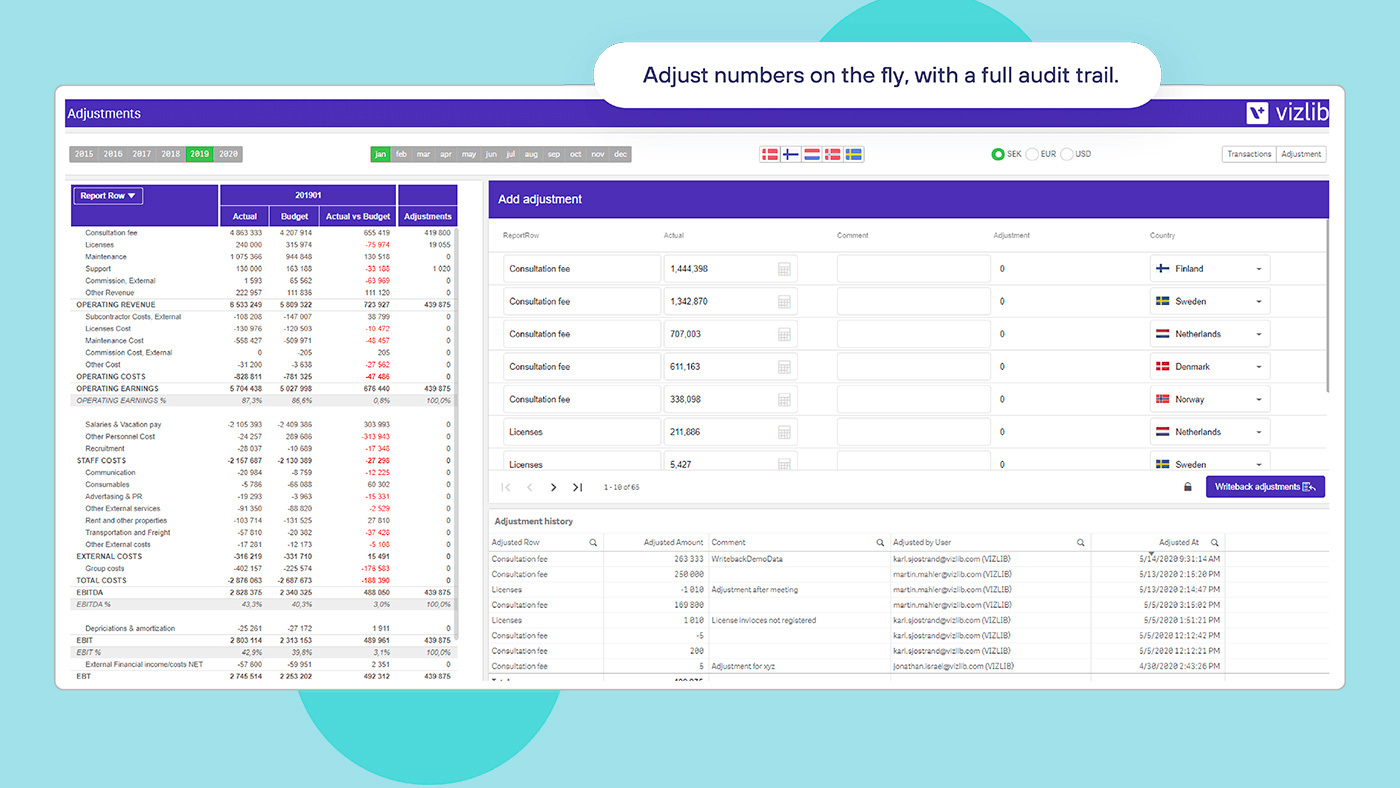 VIZLIB INPUT FORM
Vizlib Input Form allows you to collect user input and add new datapoints into your already published Qlik Sense applications. By using REST, the Vizlib Input Form can send dynamic data to almost any business tools from another system, such as your CRM, email, Slack or an output file such as .csv or .qvf.
It's easy to design your own customised, branded Input Form that nicely blends in with your dashboards. Like a blank survey form, Vizlib Input Form can be adjusted to any use-case or business requirement. Questionnaires, customer surveys, order forms or almost anything that requires outside input is possible.
Vizlib Input Form can also be used to explore various 'what-if' scenarios. Update multiple Qlik Sense variables on the fly to fine-tune your prediction models directly in your dashboard, an easy way to improve your strategic and operational actions with business simulations in real-time.
VIZLIB WRITEBACK TABLE
Are you still relying on spreadsheets and shared files without version control to gather and combine your latest data? With Vizlib Writeback Table you can stop the manual process, and the margin of error that comes with maintaining multiple spreadsheets, by working with your data directly in Qlik Sense.
You can smoothly edit, update and comment directly in your dashboards while staying in the analysis flow. It's similar to spreadsheets in Qlik Sense but much more powerful as you have the ability to correct your data, add information, adjust numbers and create new data segments.  With Vizlib Writeback Table you can edit Qlik's dimensions and measures, and seamlessly add new data using dropdowns, free text fields, radio buttons, tags and many more options.
COMPLETE GUIDE TO VIZLIB COLLABORATION!
Want a complete overview of Vizlib Collaboration? This PDF-catalogue provides you with everything you need to know about all the features included.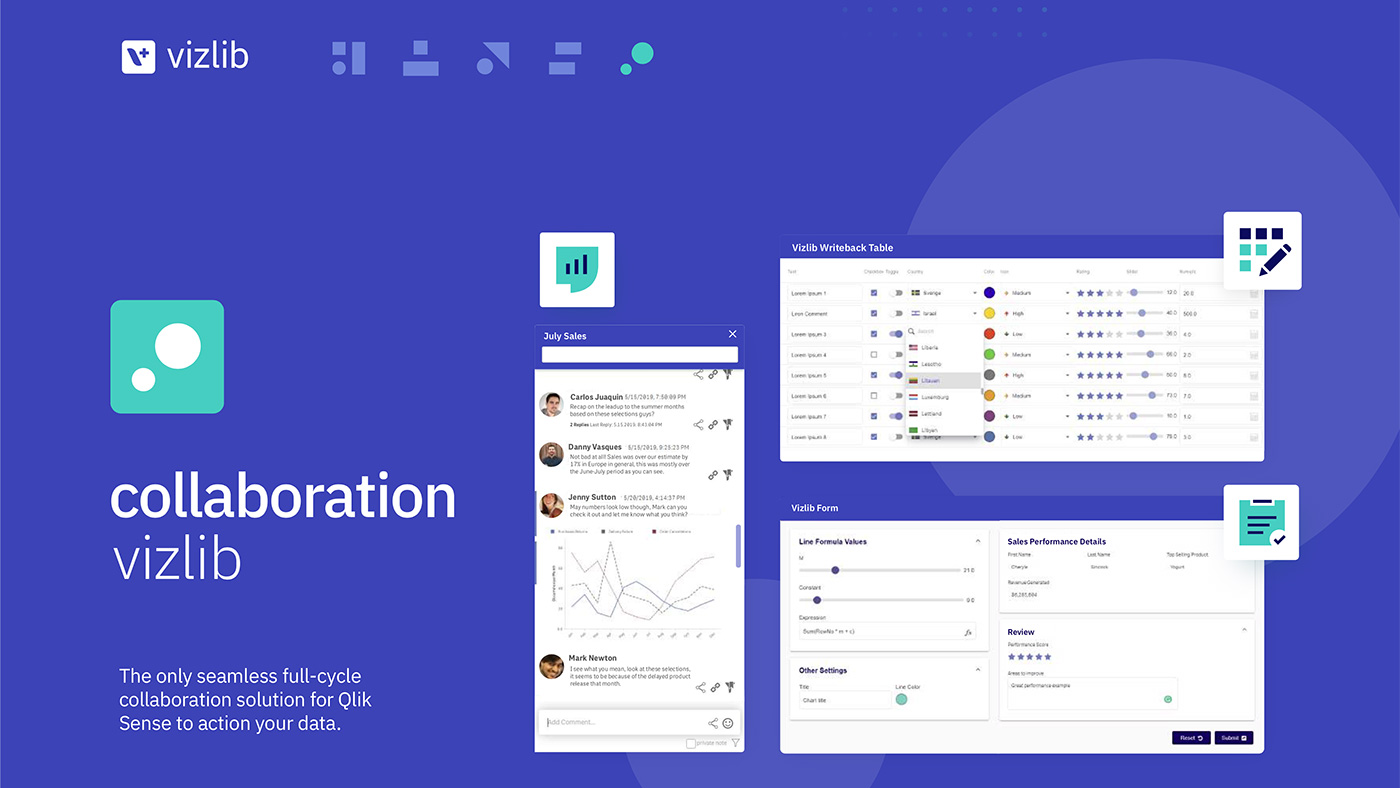 – VIZLIB GANTT –
MAINTAIN FULL CONTROL OF YOUR PROJECTS, MANAGE ACTIONS, DEADLINES AND BUDGET
Vizlib Gantt is the most intuitive project planning timeline extension for Qlik Sense. It gives you the power you need to keep your projects on track, manage activities and deadlines, stay within budget, optimise resources and forecast accurately.
 An extension packed with powerful features like HTML tooltips showing images and links when hovering, dynamic markers and milestones to check progress against timeline, and of course plenty of styling options. Vizlib Gantt will quickly become your go-to place to get an overview of your plans, status and goals in all complex projects.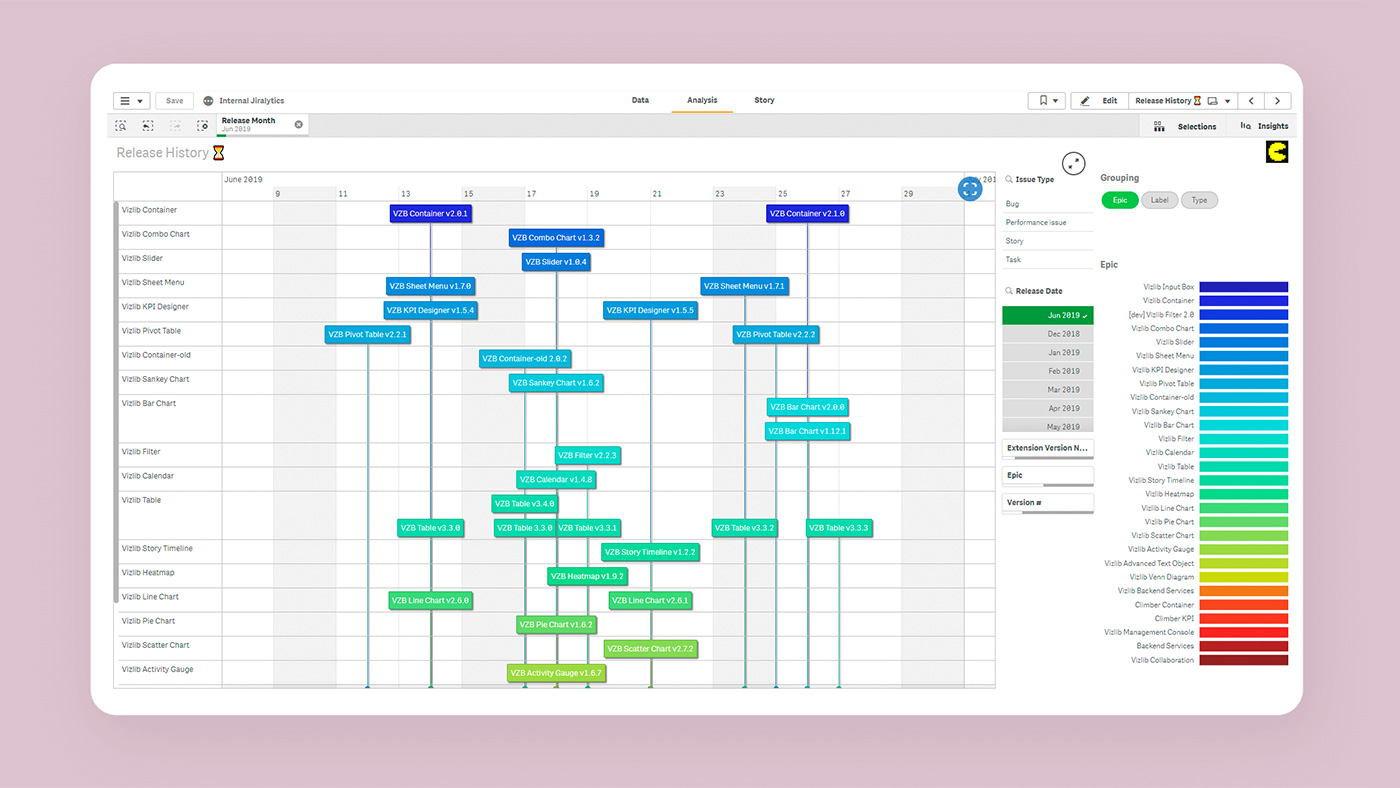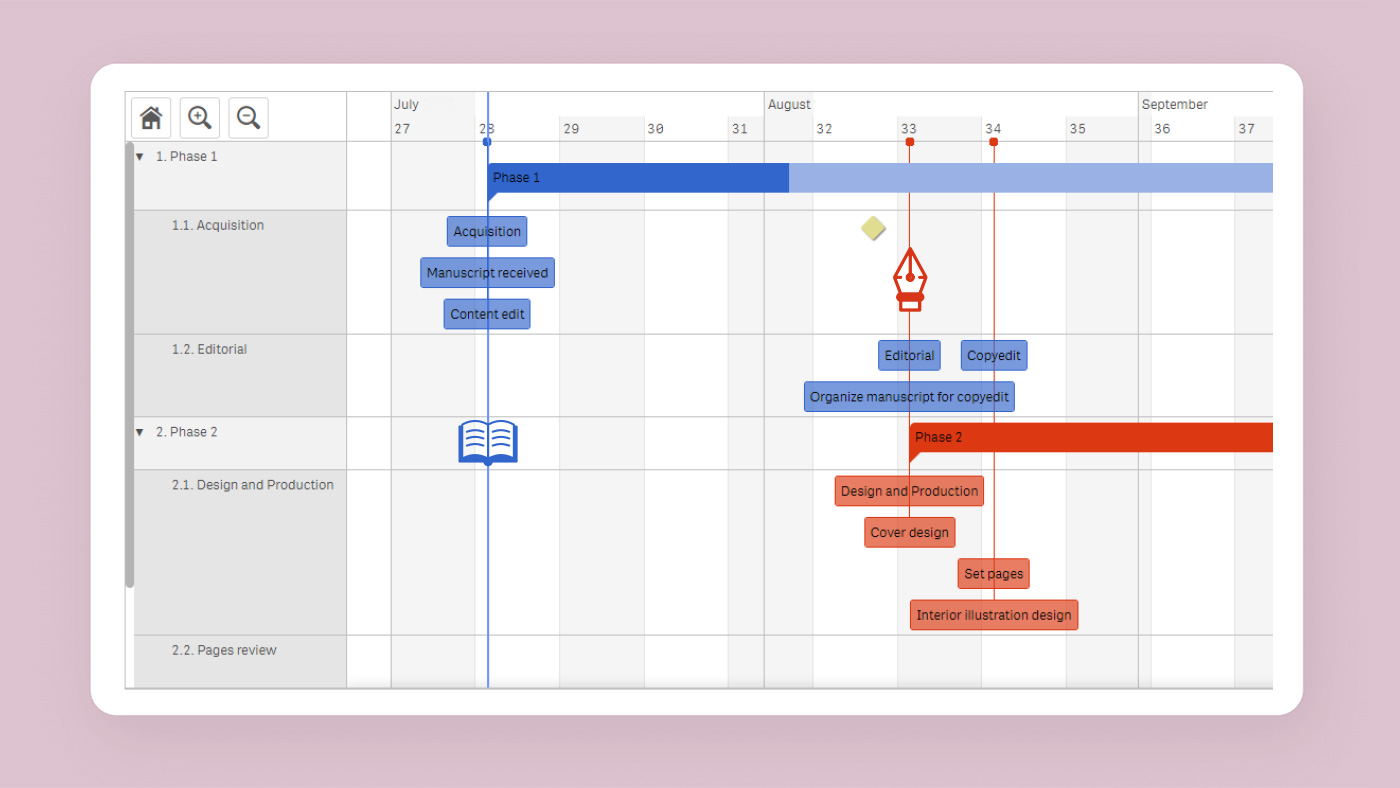 PROJECT PLANNING
Keep track of projects by using dynamic markers or milestones and maintain a 360 view of the timeline, no matter how complex it is. Use visual reports to quickly understand dependencies between activities and prioritise correctly.
VISUALISE THE PROCESS
Get a start-to-finish view of complex data flows and process steps, so you can discover bottlenecks and predict risks, such as customer churn, delayed payments or deliveries.
RESOURCE PLANNING
Keep track of how your resources are allocated, who's got the bandwidth to step in and support, and which tasks are stalling due to inadequate resource management.
360 OVERVIEW
Long-term projects can be challenging to deliver on time, within budget and without incidents. The 360 Overview lets you visualise the sequence of events to see the big picture. Regardless of which industry you are in, you can view all critical milestones in a chronological order and get a full overview of the entire project.
COMPLETE GUIDE TO VIZLIB GANTT!
Want a complete overview of Vizlib Gantt? This PDF-catalogue provides you with everything you need to know about all the features included.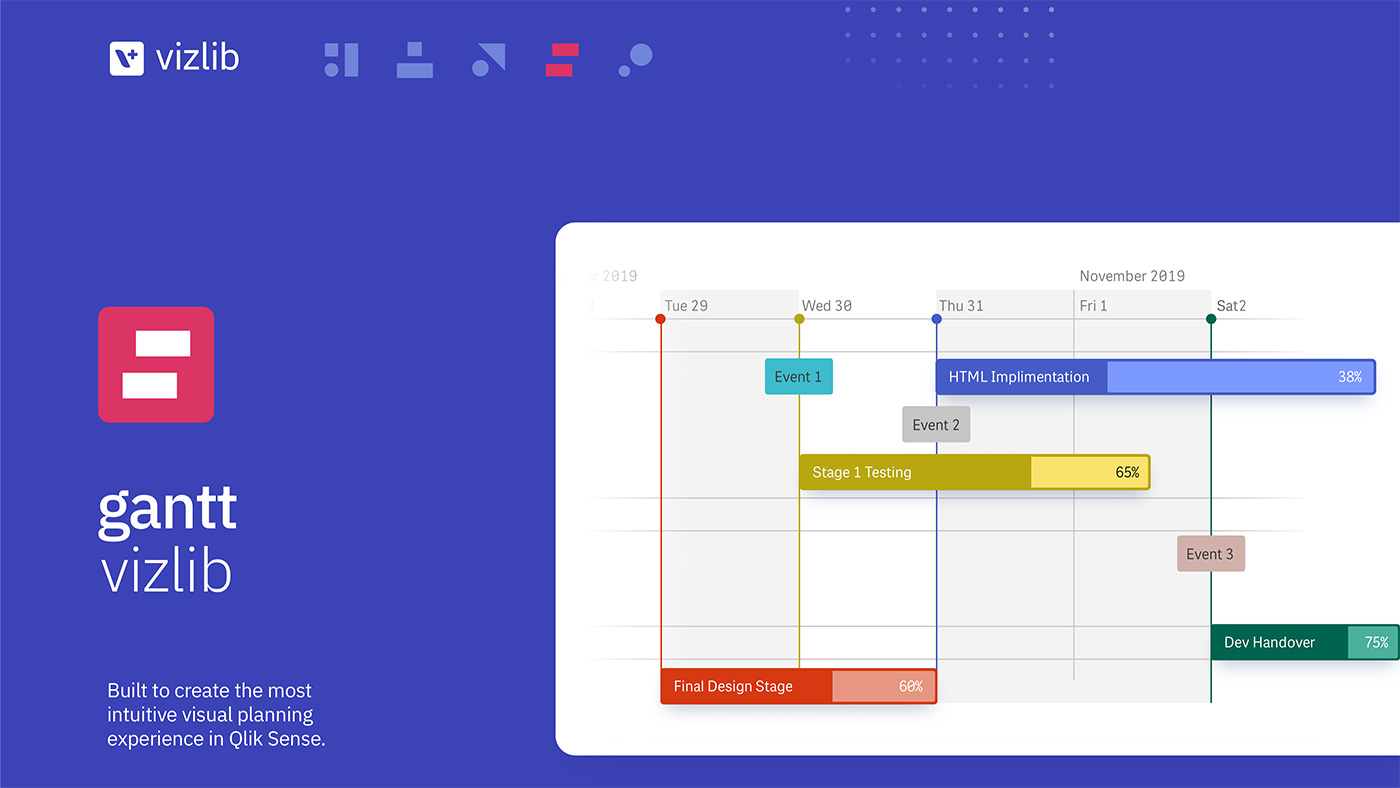 Sign up for a monthly subscription
With a monthly subscription you choose the package that best suits your needs. The Library and Self-Service packages are designed to give you a powerful total solution, which means you can choose to subscribe without adding individual extensions. Subscriptions are entered into on a company basis and are ongoing, without fixed terms, so you can upgrade from one package to another whenever you like. Your monthly fee is based on the number of users and will be invoiced on a yearly basis.
We'll be happy to give you a demo to show you the full functionality and potential of each package.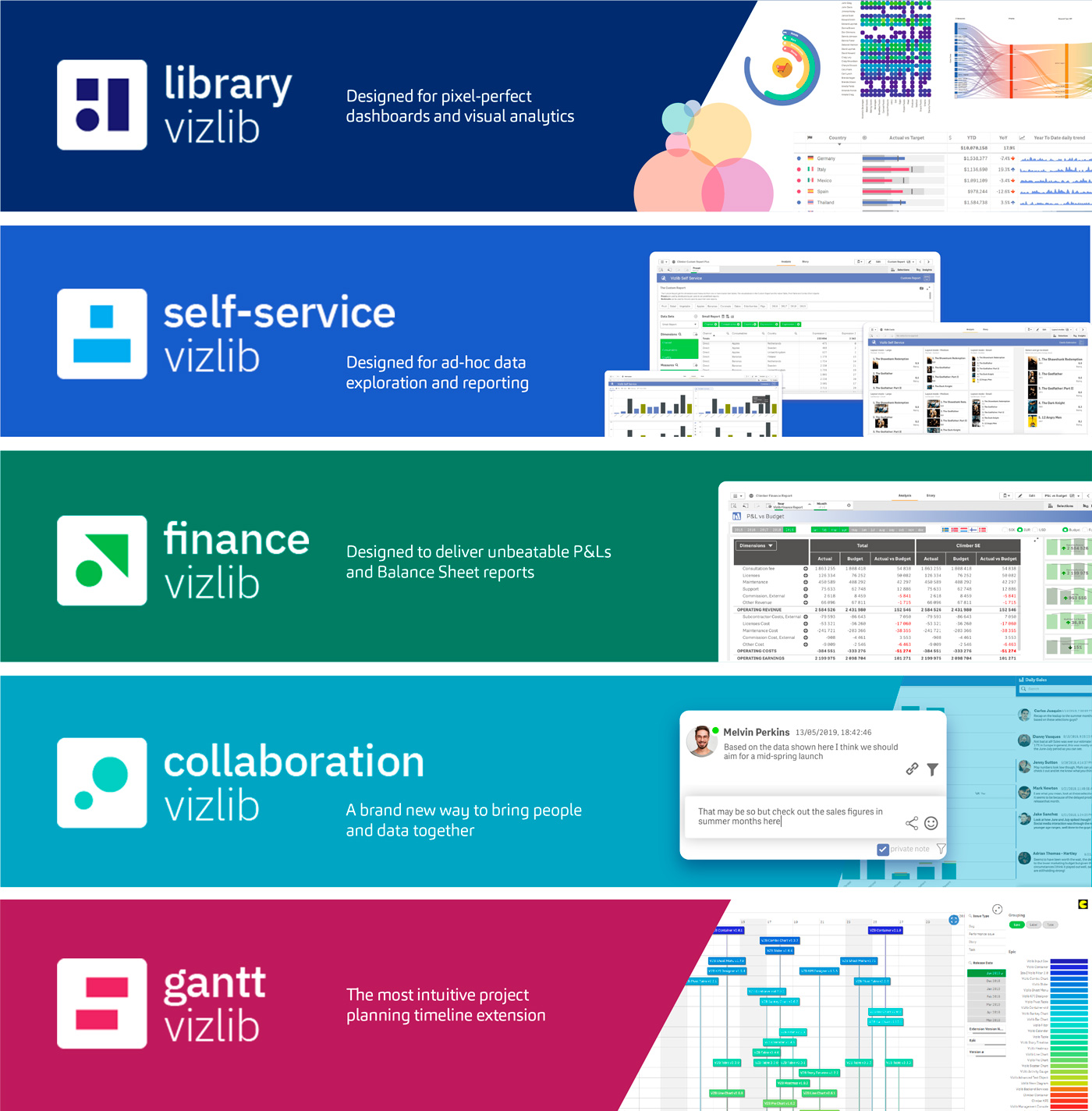 WHAT DOES YOUR SUBSCRIPTION INCLUDE?
Subscriptions include product support, updates and all add-ons that are made to the package over time.
INSTALLATION
Once you've signed up for a subscription the next step is installation. Vizlib's value-added products are seamlessly installed via QMC. Need help? Contact support@climber.eu.
SUPPORT
Your subscription includes normal product support to ensure your extensions work seamlessly with new versions of Qlik Sense. We support new versions of Qlik Sense at the time of their release or within a few days. All support cases are managed via our ticketing system. Email your questions to support@climber.eu
How to get started?
Vizlib trial free of charge!
Vizlib's product packages are free to trial for up to 5 users. One Vizlib user license allows an individual to use all Vizlib value-added extension products within the Qlik Sense environment, based on their User ID, regardless of whether they are an app developer, app user or end user. A Vizlib license covers all use cases for the named user and is equivalent to an assigned Qlik Sense Token.
Free trial, book demo or learn more about Vizlib's value-added extension products? Contact us!
Please get in touch if you need more information about Vizlib or book a demo via the form below.
Free trial, demo or price information? Get in touch!