Qlik Sense – Client-Managed BI Platform
Qlik Sense is a modern and fully web-based data analysis platform and the standard for 3rd generation data analytics. It gives you the power to explore, discover and tell the story of your data from across your business, plus with its responsive design your data will look beautiful on any device.
Qlik Sense will help your business and employees become more data-driven, as all users can create flexible, interactive data visualisations. You can run your own analysis based on what you want to know and easily create your own cross-sections and reports. Just simply 'drag and drop' from the library of predefined dimensions, metrics and KPIs. You can also add your own data to further expand your analysis options.
Just as with QlikView, Qlik Sense collects data from multiple sources, both internal and external, and thanks to its associative in-memory technology, it helps you form a complete picture of the performance of your organisation.
WHY QLIK SENSE?
Qlik Sense is based on flexible, eye-catching visualisations that make data analytics easy to understand and communicate. You have the flexibility to design your analysis based on what YOU want to know. The dynamic platform means it's easy to adjust the layout and add new data sources.  You can store all dimensions, visualisations and KPIs in one place, and its smart multi-cloud technology ensures that the right people always have access to the right information.
Qlik Sense is also designed for speed; in the cloud, on premise, or both!
QLIK SENSE DEPLOYMENT
Qlik Sense has two types of deployment routes reflected in the license subscription:
Qlik Sense SaaS: Fully hosted and managed by Qlik
Qlik Sense Client-Managed: Full functionality of Qlik Sense deployed according to your preferences (on-premises, private cloud, or public cloud)
See how we can help you manage your BI environment with Managed Qlik Services by Climber.
SIMPLE SELF SERVICE BI:
CREATE YOUR OWN DASHBOARDS
Easily create interactive data visualisations using a flexible drag-and-drop system. Explore your data with visualisations that automatically adapt to your present parameters, without the involvement of a developer, consultant or designer.
Other capabilities in Qlik Sense are:
– Smart Search:  Easily search and navigate through your complex date to speed up discoveries.
– Self-service:  Easily create your own visualisations with the drag-and-drop system, without having to use complex scripts.
– Data Integration:  Easily merge different data sources to discover hidden insights.
PRESET ACCESS LEVELS FOR SAFE USE
With Qlik Sense you can be sure that the right people have access to the right information. Qlik Sense offers security roles at different levels, which can be expanded so you can easily assign user rights based on who can see and do what. For example, some employees need access to the database to compare source data, while others may only need definitive values.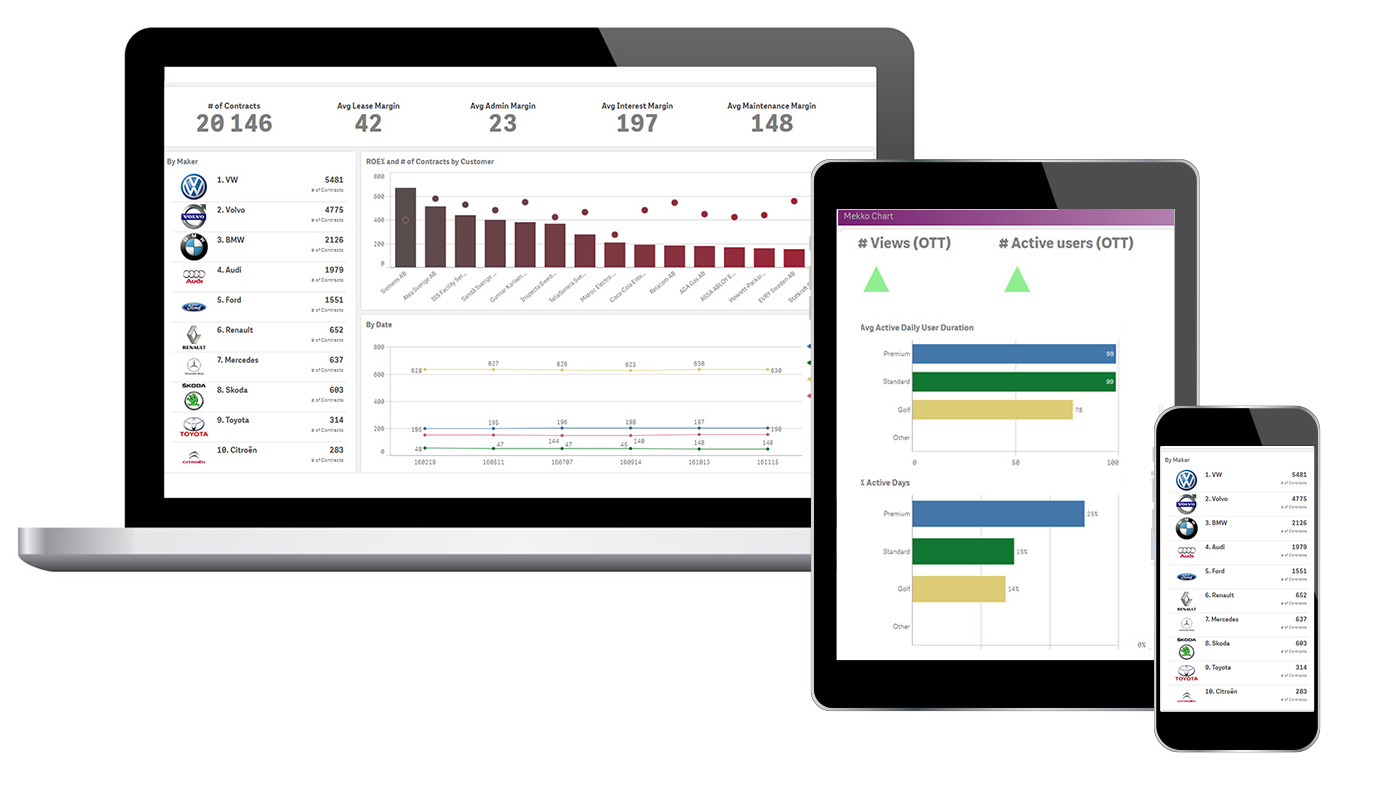 LICENSE MODEL
You can try Qlik Sense for free with a trial of Qlik Sense for business, which uses Qlik's secure cloud storage environment.  The free trial will give you chance to experience Qlik's Associative Engine for yourself and explore the associations in your data for rich insights.
Qlik Sense Enterprise is the full version of Qlik Sense that can be deployed on combinations of on-premise and cloud sites to give you full scalability.
The costs of Qlik Sense for your organisation is based on the hardware and licensing model in which you purchase user licenses. We can recommend the hardware and support you with the installation and set-up of the environment, within the framework of our infrastructure offering.
USER LICENSES
The Qlik Sense user licenses are personal and available in two options: Professional User and Analytics User. The type of license is determined by the access levels each user needs.
Professional User: A personal license that gives the user full permission to the tool. This license is intended for your employees who work with Qlik Sense every day and who can create and modify applications. They have access to all the features of the tool and have administrative rights.
Analyzer User: A personal license that provides access to the use of ready-to-use applications. This license is for employees who want to analyse and consume data, but do not need to build or modify applications themselves. They can create bookmarks, share data with others in the tool and export to Excel.
Analyzer Capacity: A consumption-based license, which provides access to the same features as Analyzer User. It's subscription-based and includes a defined number of minutes per month. These minutes can be shared between users in a group. This license is for employees who need access to applications occasionally.
LICENSE OFFER
Contact us for a tailor-made license offer based on how you plan to use the tool.

SHOULD YOU SWITCH FROM
QLIKVIEW TO QLIK SENSE?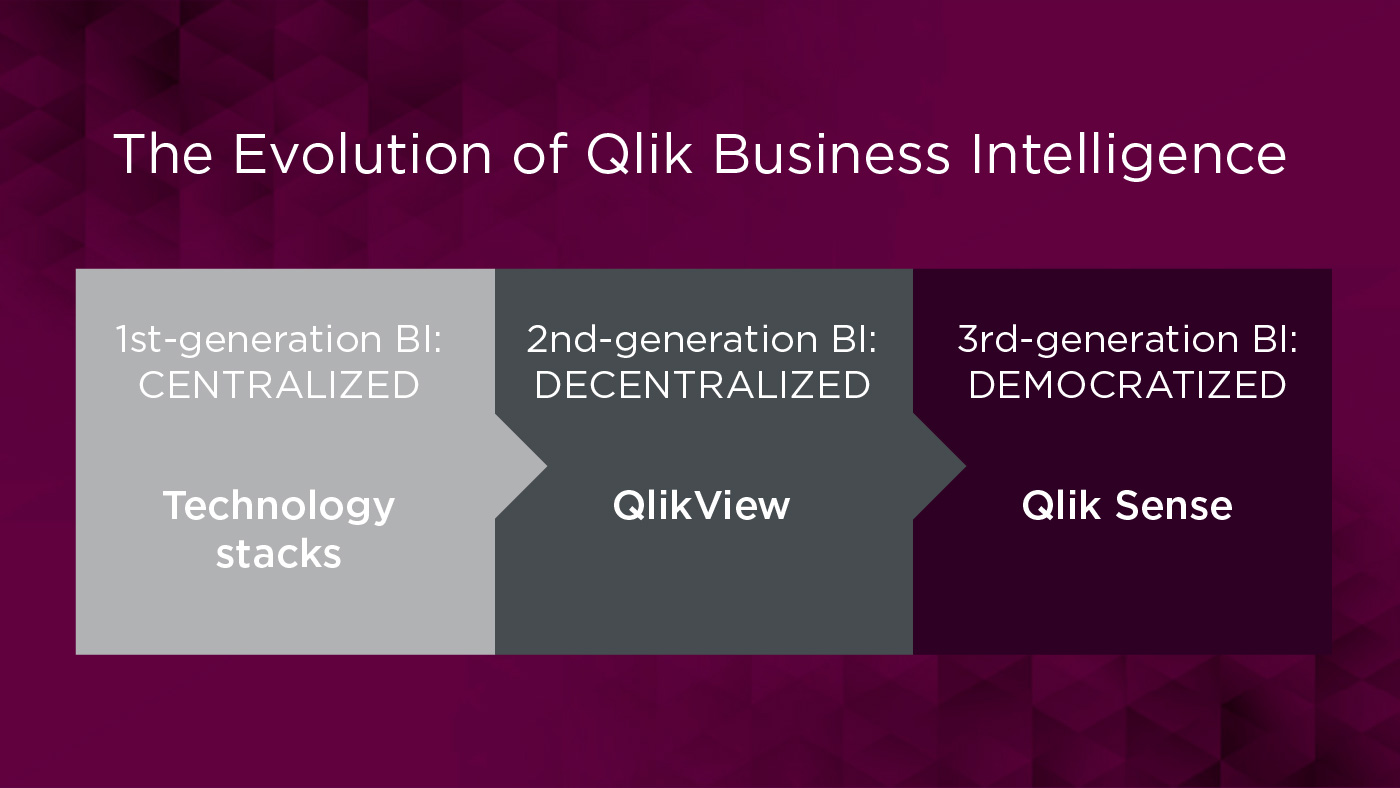 Qlik Sense is the modern successor to QlikView. While QlikView is an excellent tool for Guided Analytics, Qlik Sense makes it easier for your employees to explore and analyse the data themselves.
If you have QlikView already but want to change to Qlik Sense, there are many ways you can transition seamlessly. With unified licensing you can modernise your analytics at your own pace and have complete confidence that none of your existing data will be lost.
You can choose to keep some applications in QlikView and build new ones in Qlik Sense, or you can move from QlikView to Qlik Sense completely. Either way, by aligning your licensing you get to experience the benefits of Qlik Sense in the way that suits your business, without it costing you more.
Customers who have switched from QlikView to Qlik Sense see a significant increase in the use of Business Intelligence and Qlik within their organisation. Find out how you can start using Qlik Sense through the Analytics Modernisation Program.
CREATE CUSTOM REPORTS WITH QLIK NPRINTING
Once you can gather and analyse your data you need to be able to share the insights across the business. With Qlik NPrinting you can easily share customised reports that can be distributed via email, intranet or other channels to users across your business.

WE CAN HELP YOU WITH YOUR QLIK PROJECT!
We have enjoyed developing BI solutions for hundreds of companies across various sectors. We are Qlik's expert partner in retail, manufacturing, and consumer products. Read more about how we have assisted other companies with their Qlik Sense solutions here.
ASICS
We assist ASICS Europe with the integration of important data flows and the translation of figures into crucial facts. In this way ASICS can maintain the right focus and constantly optimize its business operations.
"Qlik Sense has empowered our organization into making data driven decisions. By implementing with the Climber team actionable insights fit for each department, we have succeeded in developing the level data literacy while gaining efficiency."
ELODIE RIBOUST, Manager Reporting and Analytics, ASICS
Contact us!
Whether you have questions about the product, licensing, development, project management, hardware or hosting – get in touch! Together we will find the best solution for you.