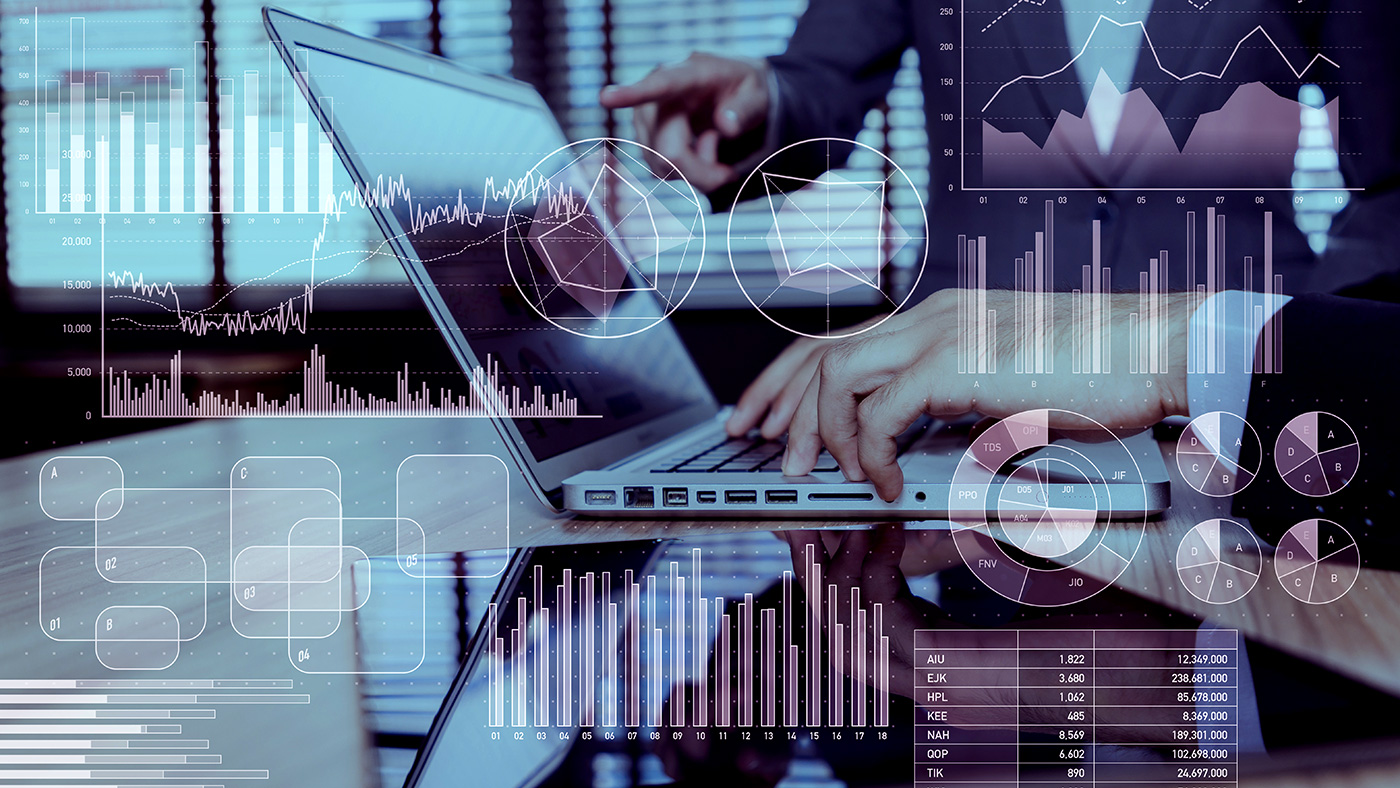 Data visualization: choose the right visualization with the help of Qlik
Companies collect a lot of data. Just think of all the information you gather through your website, customer data, geo data, sales data, and so on. In this world of "data madness" we all want to gain important insights in no time. More and more companies are therefore using data visualization in business intelligence tools such as Qlik.
Data visualization is the communication of information (data) in a clear and effective way, using graphical tools. In data visualization the use of colors and shapes are important as these help us quickly grasp notable insights. However, there are dozens of visualizations available and choosing just the right one for the cause can be difficult. Think of pie charts, line charts, (pivot) tables, bar charts, KPI's and so on. How do you choose the optimum visualization to get the answer of your question? And how can a BI-tool like Qlik help you, as a user, choose the right one?
"Visualizing data makes analyzing a lot easier and more fun"
MAKING ANALYZING MORE STRAIGHTFORWARD
A good visualization will give you the scope to analyze your data at a glance. Each of your visualizations provide an answer to one of your key questions, which may be crucial to your business. Now you can easily zoom in on problem areas and quickly take actions that directly will affect your results. Analyzing the data becomes a lot easier and more fun.
One of the best and most sustainable ways to quickly gain valuable insights from your data is combining visualizations to a dashboard. A major additional advantage is that visualizations in tools such as Qlik only need to be designed once. As an analyst, you will therefore no longer be busy creating insights on a daily basis, but instead get the insights every day by simply pushing a button. This will allow you to prepare in advance for what you see happening in, for example, your production process or at one of your stores.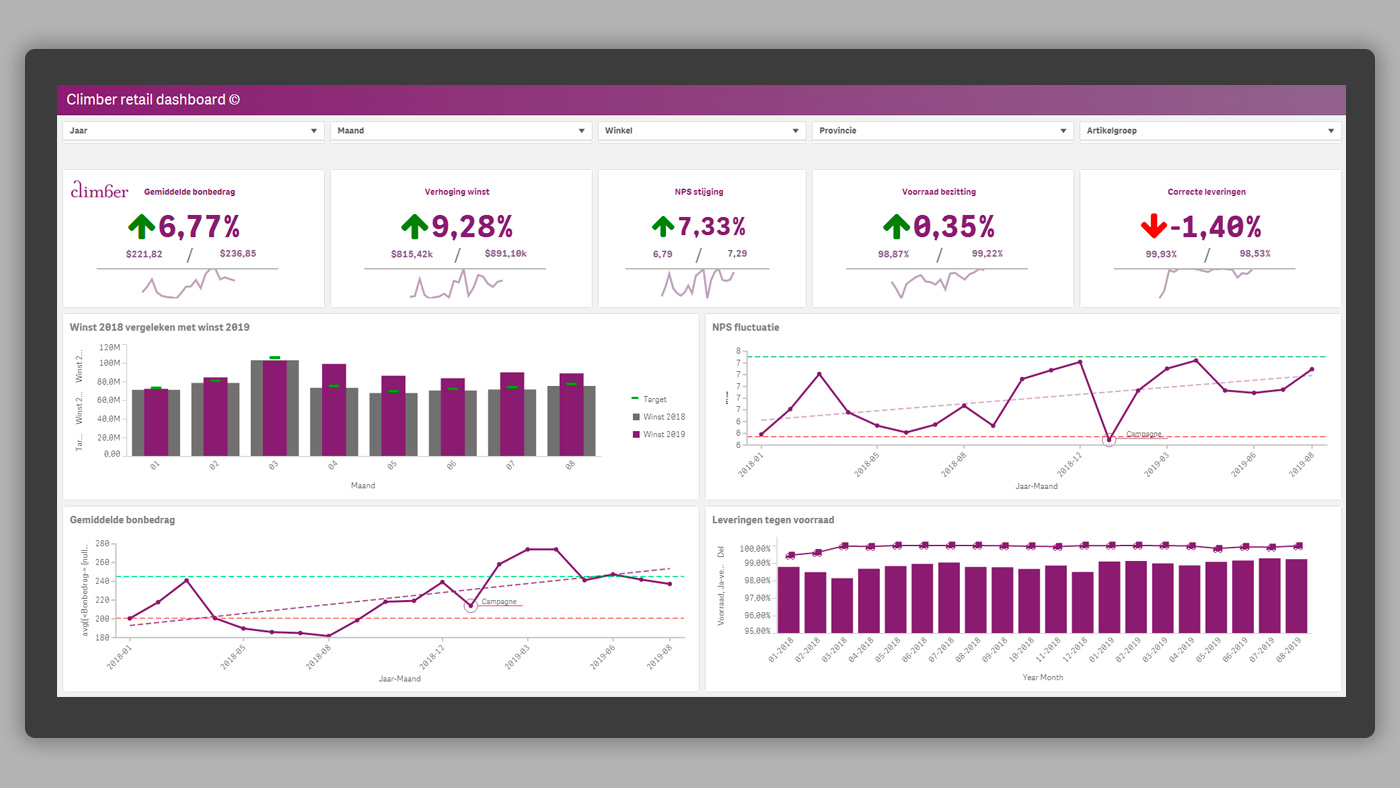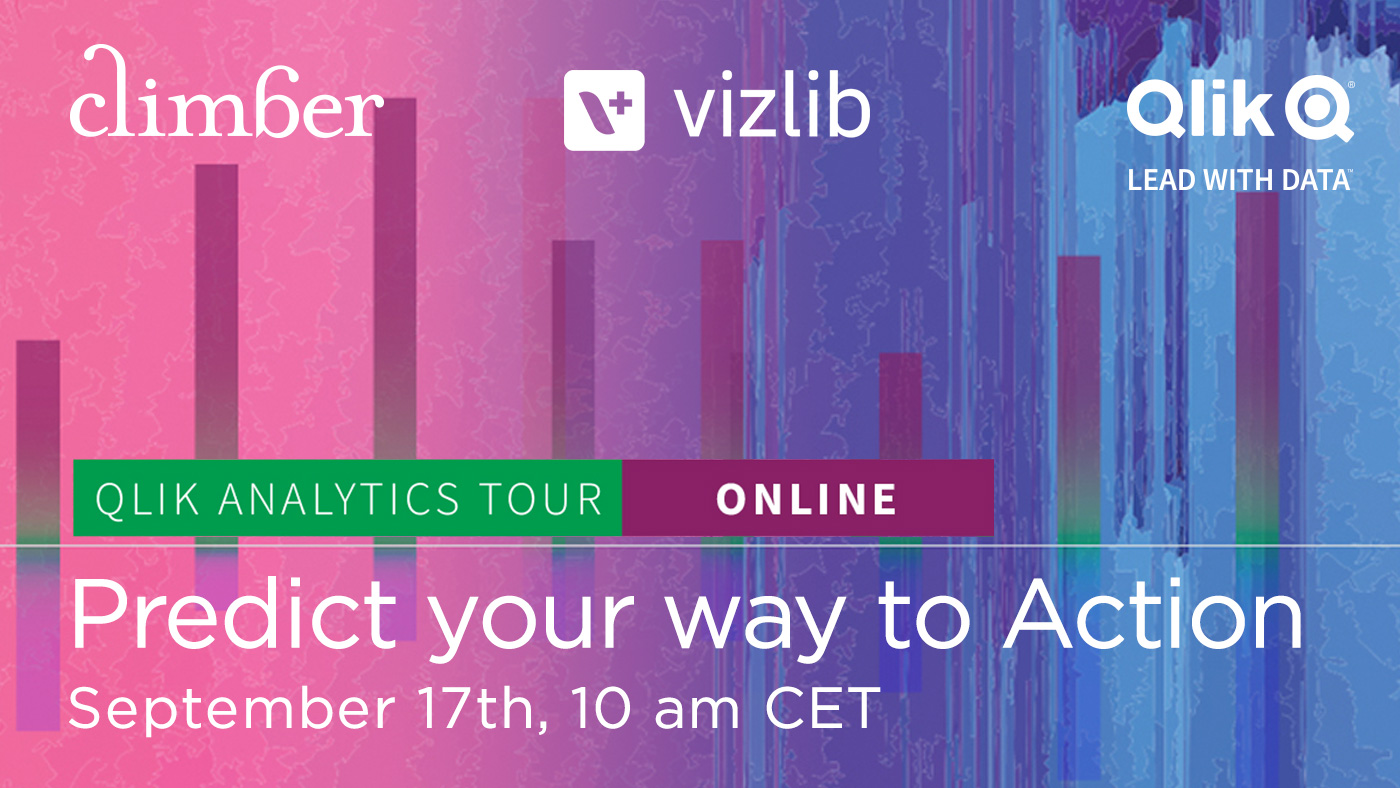 ENABLING PREDICTIVE ANALYTICS TO THE PEOPLE
VIZLIB SHORTENING TIME FORM DATA TO ACTION
Sign up today for an online masterclass on how to accelerate actions through Augmented Data Analytics at the Qlik Analytics Tour 2020 on September 17th, 10 am CET!
Our friends at Vizlib will showcase how any user can leverage advanced analytics on the fly to predict the best action to follow up, with the help of smart visualisations, clustering and collaboration in Qlik Sense. The event is free, and spots are limited.

TAKE IN CONSIDERATION BEFORE CHOOSING A VISUALIZATION
The visualization chosen should, together with the underlying data, tell a story of how the data influences your company and employees (storytelling). The story told by the visualization must be easy for the user to understand and reveal important insights immediately. This of course requires a certain amount of data literacy from the user.
"In addition to properly visualizing the data, it's very important that the analysts possess a certain amount of "data literacy". Only the correct interpretation and understanding of the insights ensure that the team can convert the insights into a valuable action plan."
Want to know more about data literacy and the importance of it to your company? Click here to watch the webinar with Qlik's Jordan Morrow on data literacy.
A reliable, useful and sensible visualization must take four factors in consideration. It should:
contain correct data
be relevant to the user
be easy to use
be attractive / clearly visualized
3 STEPS TO GUIDE YOU TO THE OPTIMAL VISUALIZATION
The first step, and at the same time the most important aspect when choosing the right visualization, is of course that you understand the data that you intend to use. Lacking knowledge of this will make it very difficult to create a valuable visualization.
Useful tips!
1. Determine the goal
Before you start creating a visualization, make sure that the purpose of the visualization is clear. This will help you determine how many measured values ​​and dimensions you need, which in turn automatically will give you direction in choosing a visualization. In addition, always try to imagine what the user wants to see.
 2. Use the right colors
In a visualization it's important that the colors signal whether something is important and therefore should attract the attention of the user. You can use "alarm colors" e.g. red for decrease in sales, or green for achieving the target of the marketing campaign.
3. Keep it simple
Try not to show too much information in one visualization. You don't want the user searching for the answer to his question. Would you like the user to have the option to see more details?  Use the drill-down function to enable this.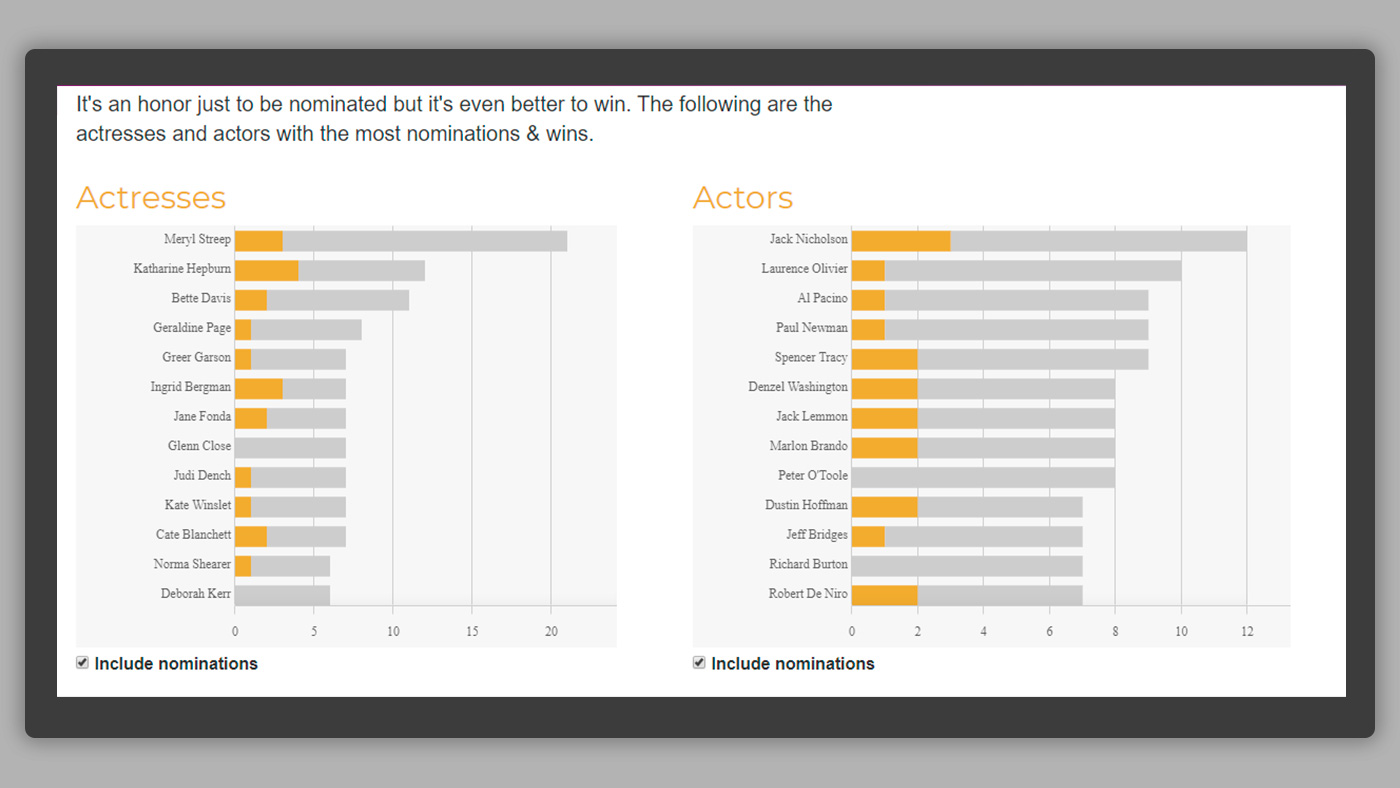 Source: Qlik Demo 
These visualizations exemplify correct use of our tips
The goal: to compare the number of Oscar nominations with the actual wins  per actor / actress
The colors: orange attracts attention, here you can quickly see how often an actor / actress won an Oscar
Keep it simple: no excess data in the visualization, making the insights visual at a glance
THE MOST USED VISUALIZATIONS
Each graph excels in visualizing data in a different way for a different purpose. At this moment, the most commonly used visualizations are still the "golden oldies", the bar chart and the line chart.
The bar chart
Shows a trend in the form of bars / columns, possibly over time (e.g. last year versus this year) and per dimensional value (e.g. per category). You can change the order – to see the most relevant column first.
The line chart
Shows a trend where the x-axis can have a large number of data points. This graph is useful to display, for example, revenue of the current year over various data points, in the form of a line. A line can easily be added to the visualization, for example, one that displays data from last year. This allows the user to quickly compare trends with each other.
In addition to these valuable classics, there are of course other visualizations that are frequently used. Qlik has developed a practical step-by-step plan for this, which helps you with your choice and keeps the various visualizations organized.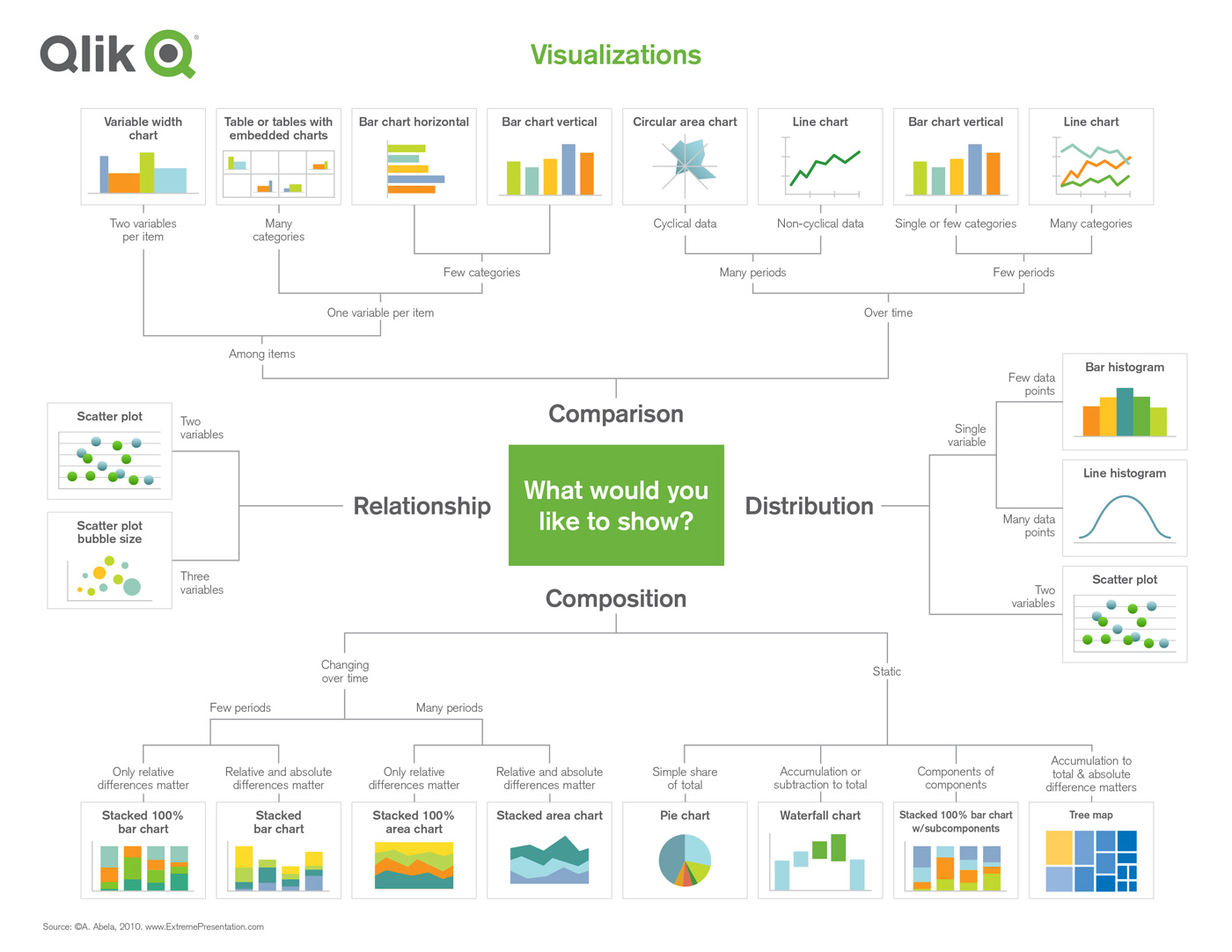 VISUALIZING DATA WITH THE HELP OF QLIK
The Business Intelligence tools QlikView and Qlik Sense are part of Qlik's offering. These BI-tools provide different options of data visualizations and the possibility to combine them into dashboards and reports. One of the advantages of Qlik is that the tool also can advise you on which visualizations to use. The Qlik Insight Advisor provides a starting point for you to explore your data and create visualizations. The Qlik Cognitive Engine looks at the available fields you want to visualize. Taking this information in account, the Insights Advisor gives several suggestions of visualizations and you then determine which one gives you the best insights.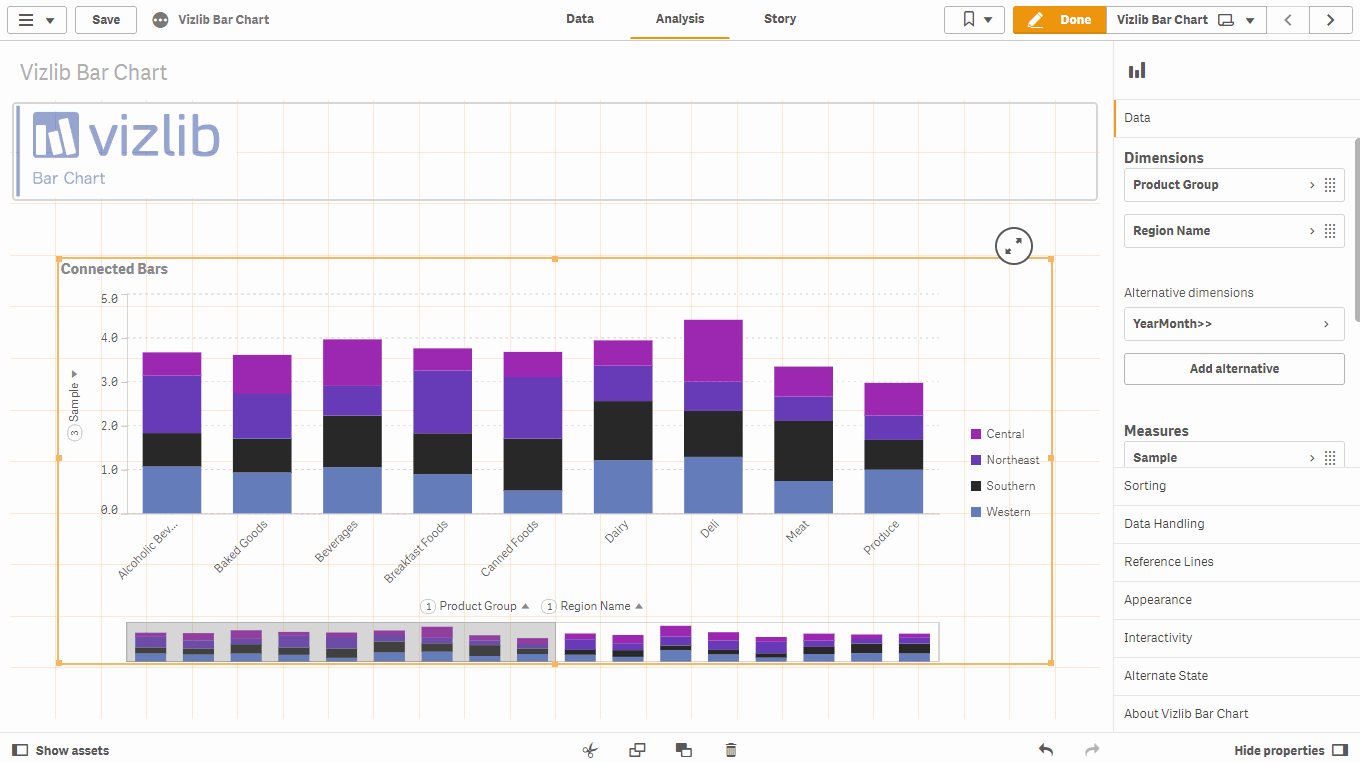 Need inspiration? Get started with the Vizlib Library!  
Want a complete overview of the Vizlib Library? This PDF-catalogue gives you the detailed information of all the visualisations included in the library.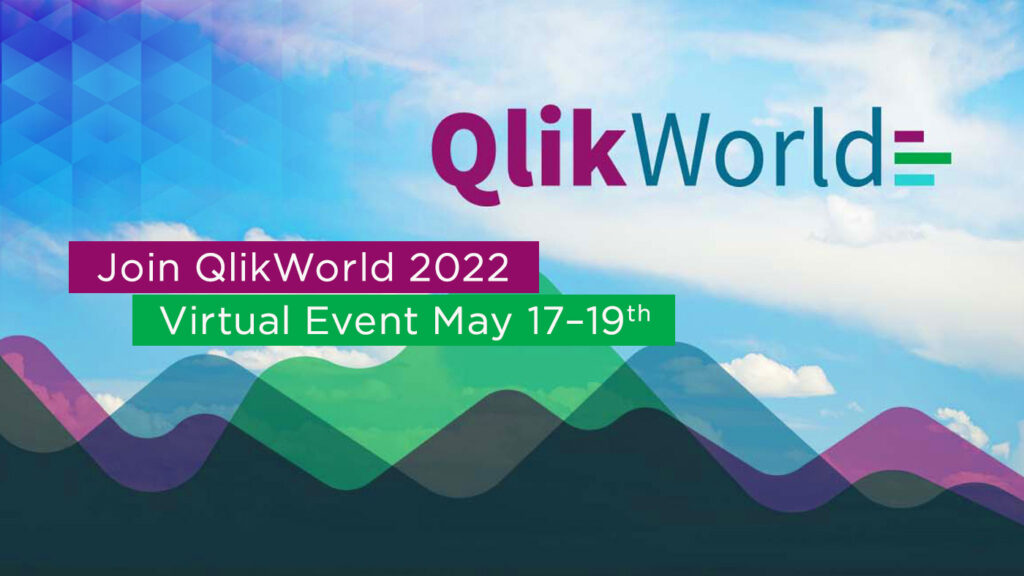 Event
QlikWorld Virtual is the industry-leading, free global event featuring the biggest names in data. Join us 17-19th May for three days of inspiring keynotes, informative breakouts, and innovative technology combined with virtual networking opportunities. Register for your seat today!
>> Sign me up!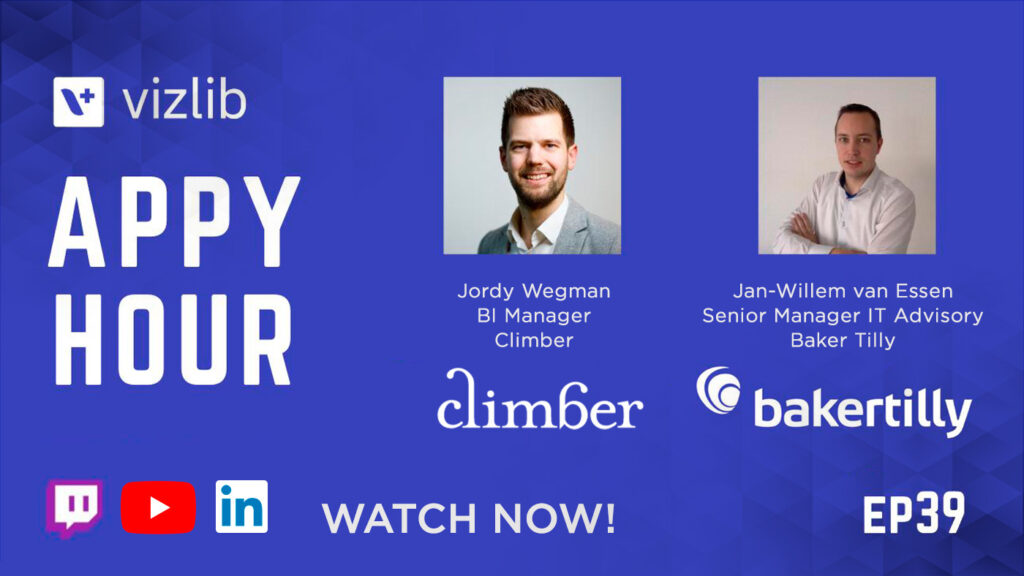 Event, On-Demand Webinar
Hear the accounting and advisory firm Baker Tilly who are using Vizlib's extensions to enhance the standard functionality in Qlik Sense, making their day-to-day life easier while saving time and money for both their internal IT department and their clients. Watch this episode of "Vizlib Appy Hour" to hear how Baker Tilly reduced 90% of their internal support calls!
>> WATCH NOW!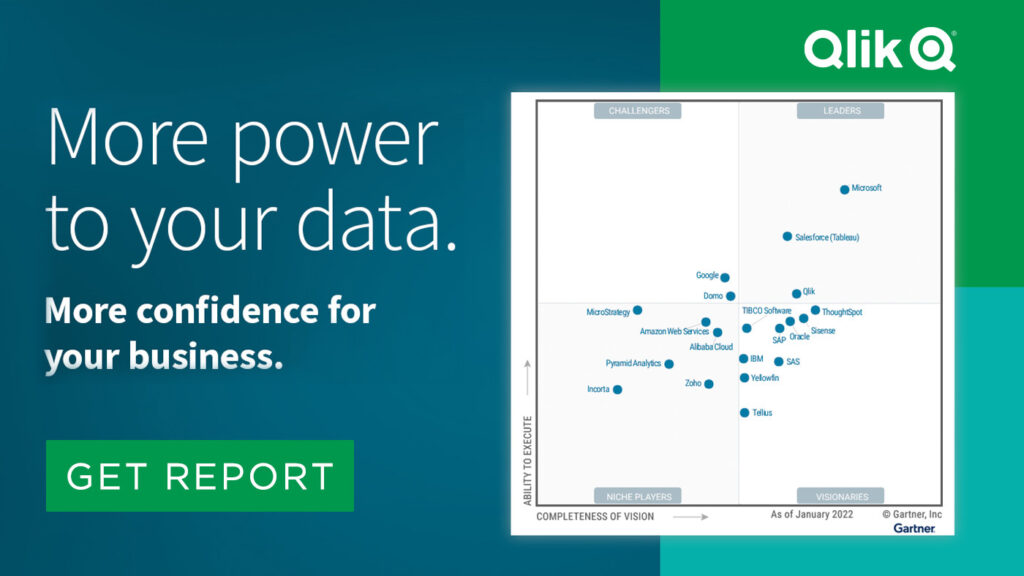 News
Download the Gartner Magic Quadrant 2022 report to easier compare BI tools. Get an overview of the analytics market ― discover what makes Qlik a 12 year consecutive MQ Leader in Analytics and BI platforms.
>> Download the report