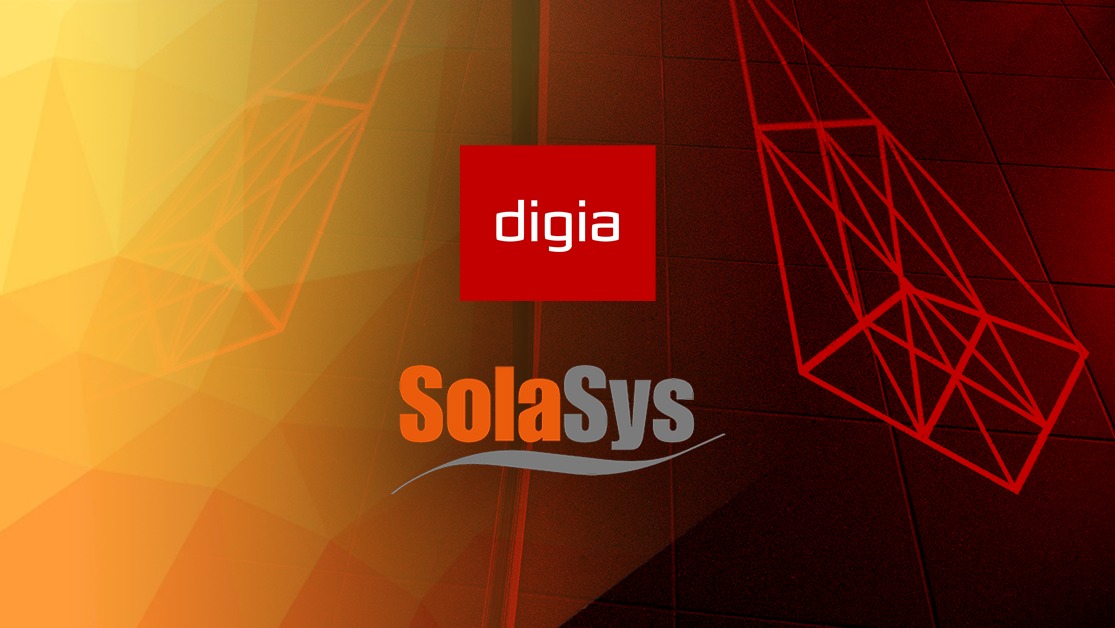 PRESS RELEASE – 01.09.2021
Solasys becomes part of Digia – we are strengthening our offering in data utilisation
We're excited to announce that our parent company, the Finnish Data Utilisation Powerhouse Digia Plc has joined forces with Solasys Oy, a data management expert established in 2002. On 31 August 2021, Solasys Oy's shareholders and Digia Plc, which has a holding in this company, signed a sale agreement whereby Solasys will become fully owned by Digia as from 1 September 2021. This acquisition will strengthen Digia's Qlik expertise.
For almost 20 years, Solasys has served as a subcontractor in the delivery and development of the Digia Enterprise ERP. In addition to ERP, Solasys has strong expertise in reporting and analytics, especially Qlik technologies.
"We're excited to begin the collaboration with Solasys. This increases our footprint in the Qlik field of the analytics market and enables us to further deploy all the new possibilities that the Qlik Sense SaaS portfolio offers," says Jan Sipek, CEO & Founder, Climber.
Solasys had net sales of MEUR 1.28 in the financial period that ended on 30 June 2021. Nine experts will join Digia after the merger. Going forward, Solasys will operate as a wholly owned subsidiary of Digia with its own brand. Digia previously had a 10 per cent holding in Solasys. Paul Sippel and Rauno Hörkkö will continue to head up the company.
"Digia already has a versatile offering in ERP and data utilisation solutions. These two offering areas provide a strong portfolio for our customers, enabling the utilisation of business system data to support management. Solasys's expertise strengthens Digia's current offering in not only Digia Enterprise ERP, but also Qlik technologies. Digia already has robust expertise in Qlik technologies thanks to the Climber acquisition in January 2021," says Jukka Kotro, Senior Vice President, Digia Business Platforms.
Digia Enterprise is a scalable Finnish ERP solution that has been developed specifically for the needs of Finnish companies. The solution includes ready-made solutions for wholesale, the food and drink sector, the machinery trade, and industry. The Digia Enterprise solution is developed constantly and the latest version boasting new features will be launched in early 2022. Solasys has been closely involved in the development work, which has also been carried out with Digia Enterprise customers.
This acquisition is part of Digia's Next Level strategy, in which we are seeking growth both organically and through acquisitions.
"Digia and Solasys have a long and consistent track record of excellent cooperation – and that's why it's great to have them be a part of Digia. Thanks to this acquisition, we can even more effectively combine our expertise – and our Digia Enterprise customers will also benefit from this," says Stefan Hellstrand, Director, Digia Enterprise.


"Now that Solasys Oy is owned by Digia, the company has greater resources to more effectively pursue continuous development. The long-term development of personnel and products calls for increasing outlays to enable us to retain and further enhance our competitiveness. Thanks to our new owner, we will be even better able to continuously develop our products and services to benefit both our current and future customers," say Paul Sippel and Rauno Hörkkö from Solasys Oy.
About Digia
Digia is a software and service company that helps its customers renew themselves in the networked world. There are more than 1,300 of us working at Digia. Our roots are in Finland, and we operate both in our home country and internationally. We are building a world in which digitalisation makes a difference – together with our customers and partners. Digia net sales were EUR 139.0 million in 2020.  The company is listed on Nasdaq Helsinki (DIGIA). Read more at digia.com.
About Solasys
Solasys Oy is a Turku-based data management expert established in 2002. It specialises in providing ERP system services, BI solutions, reporting systems and related expert services. The cornerstone of its operations is its robust hands-on experience in delivering demanding information systems to technical wholesale companies and demanding BI analytics solutions to companies in the retail sector and industry. Learn more at solasys.fi.
Further information: 
Jukka Kotro
Senior Vice President, Business Platforms
Tel. +358 400 497 886
jukka.kotro@digia.com
Paul Sippel
Solasys Oy
Tel. +358 400 520 553
paul.sippel@solasys.fi

Do you have any questions or want to know more? Contact us.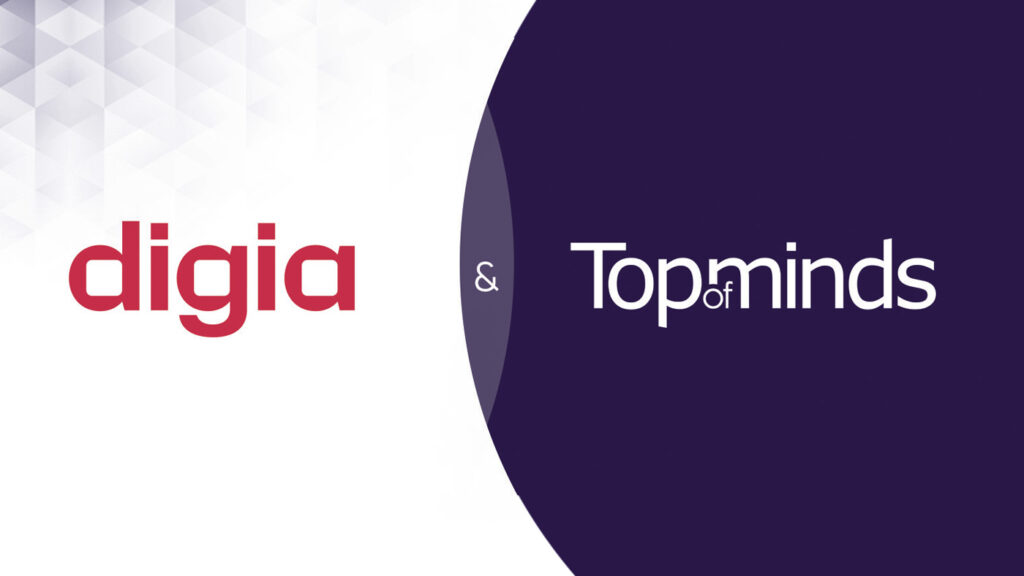 News
21 September 2023: Digia reinforces its position as a Northern European Powerhouse in Data Analytics by acquiring Top of Minds, a Swedish IT consulting and service company. Top of Minds has expertise in both modern data analytics and classic data warehousing, front end analytics, and integration – a perfect combination with Climber's offering.
>> Read more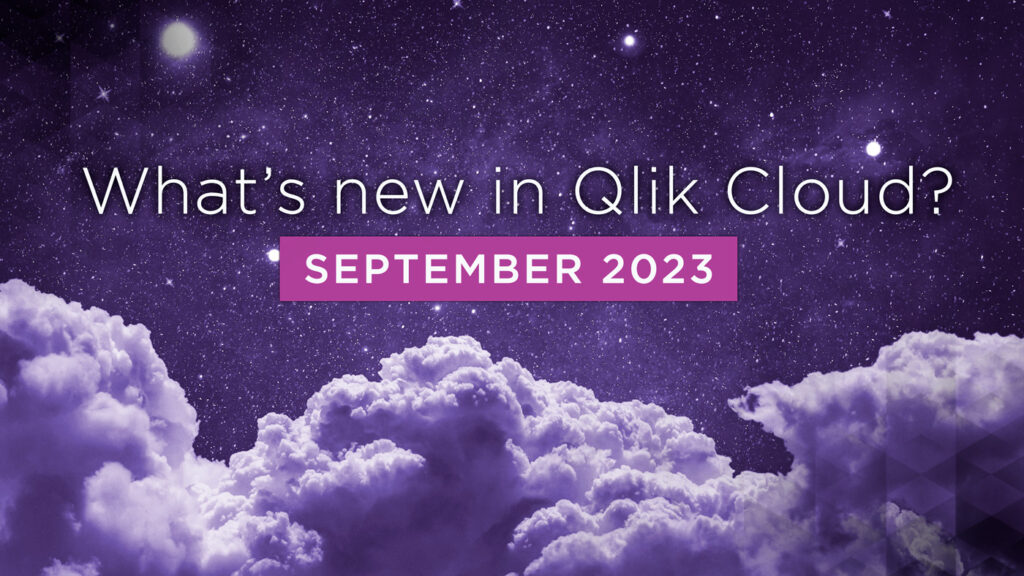 Blog
The latest updates focus on enhancing efficiency, scalability, and governance in data tasks, making Qlik Cloud an ever more powerful tool for organisations to manage their data operations. Let's dive into the key features and advancements introduced recently.
>> Read more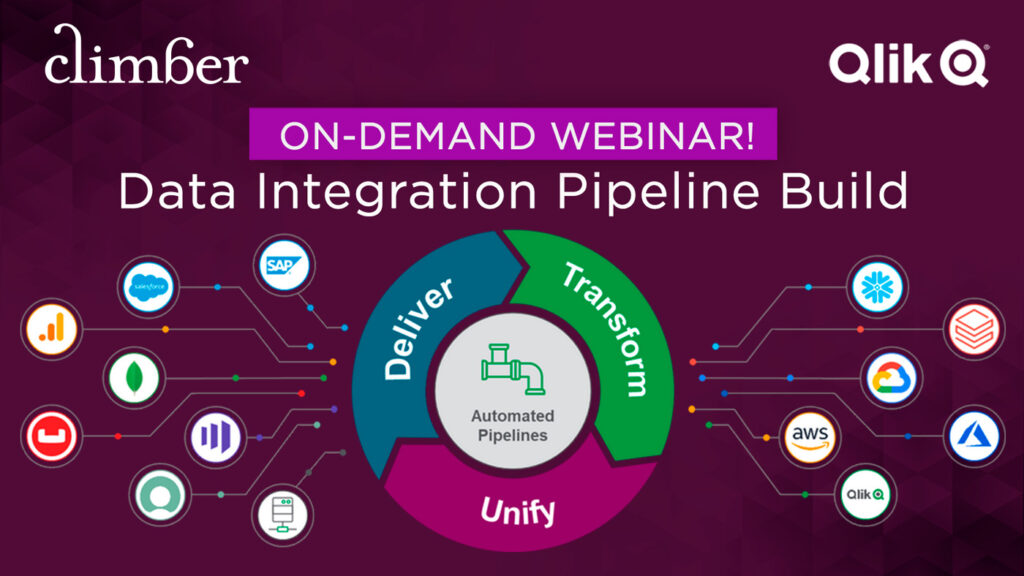 On-Demand Webinar
Join our Data Integration & BI Consultant, Mark James and Qlik's Global Products Marketing Manager, Adam Mayer, for a live Qlik Cloud Data Integration pipeline build demo.
>> To the webinar!